Podcast: Play in new window | Download
Subscribe: RSS
You may recall the sensation that was the Doug Anthony All Stars musical comedy trio. You don't even have to be old: they reformed in 2013 and toured the UK again! In this podcast I have the privilege of talking to one of the members, Tim Ferguson. Although I had a swag of questions to ask Tim about his career and tilt at running for parliament, his current passions – disability activism and writing/teaching comedy – dominate this discussion. I firmly believe in following a guest's energy even if it means binning my questions!
Tim talks about his online teaching series. I enjoyed our conversation so much that I enrolled. And, today, I will enjoy the final class in the current series. (Hubby said he heard me laughing and cackling through the first class.) However, Tim provides masterclasses and one-on-one coaching on an ongoing basis. So, if you're interested, it's worth contacting him at Cheeky Monkey Comedy (not to be confused with the brewery) to find out what is coming up.
If you enjoy this podcast, I recommend listening to Brinna Kelly talking about making her passion project The Fare.
Cheeky Monkey bio (different to the podcast version, which is MUCH shorter.)
Note: this section has some minor changes from Tim's website because Yoast threw up a red light.
Tim Ferguson is a widely acclaimed comedian and screenwriter. He toured the world performing stand-up and musical comedy, co-writing dozens of live stage comedy shows and light entertainment programs.
Tim is a patron of MS Australia, and national advocate for employment of people with disabilities.
Recent credits include: co-writing (with Edwina Exton) co-directing (with Marc Gracie) the romcom feature film Spin Out [Sony Pictures]. He is Series Script Editor for the ABC1 sitcom Ricketts Lane.
Teaching, writing and consulting
Tim has taught Comedy Screenwriting courses at New York University, Scotland Screen Academy, Australian Film Television & Radio School, RMIT University, Sydney Film School, VCA.
Tim consults for various international production companies and networks on screen comedy development.
Author of the bestselling comedy manual 'The Cheeky Monkey – Writing Narrative Comedy',  Tim wrote the memoir 'Carry A Big Stick', a tale of love, laughter & MS. He wrote the political satire Left, Right and Centre (Penguin Books).
Tim consults for various production companies and teaches Cheeky Monkey Comedy Courses worldwide.
Current satirical series (discussed in the podcast)
He writes The Ferguson Report, a weekly news satire column in online newspaper The New Daily. He also makes regular appearances in the media.
Tim Ferguson's award-winning Live solo shows include Carry a Big Stick and Fast Life on Wheels, mischievous "sit-down-stand-up comedy".
Doug Anthony All-Stars
The Doug Anthony All-Stars [DAAS] won the Edinburgh Fringe Festival's Spirit Of The Fringe Award in 2016.
Cortle.com chose DAAS as the UK's #2 comedy act for that year.
Tim began as a member of comedy trio Doug Anthony Allstars (DAAS) (with Paul McDermott and Richard Fidler) whose credits include the scifi sitcom , live comedy show The Big Gig, the feature film The Edinburgh Years, the BBC's DAAS LOVE and UK Channel 4's Viva Cabaret.
DAAS broke box office records on 9 world tours and released various books, comics, artworks, live recordings and Australia's biggest selling independent album, ICON.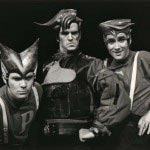 DAAS reformed in 2013 with Tim, Paul McDermott & Paul 'Flacco' Livingston with 3 sell-out tours. Their new live show "Near Death Experience" toured the UK to packed theatres.
Other Appearances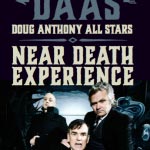 Tim hosted the Logie-winning mega-production Don't Forget Your Toothbrush, the UK/Australian co-pro sitcom Shock Jock, Big Brother Insider, the Unreal-TV franchise, starred in the spoof 70's cop show Funky Squad and the live satirical commentary show With Tim Ferguson (WTF). He has appeared on many TV shows i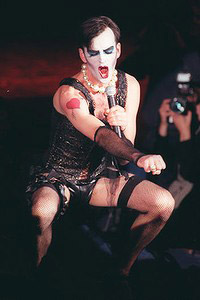 ncluding Good News Week and was a 1990 candidate for the seat of Kooyong.
Tim shocked and rocked as Franknfurter in the record-breaking Sydney production of Rocky Horror Show.
I would have LOVED to have seen Tim as Franknfurter!
Cheeky Monkey on Tim Ferguson as a teacher
Although I introduce this podcast with a different bio, I'll include this one from his website here:
CheekyMonkeyComedy.com  is headed by Australia's foremost comedy writing teacher – Tim Ferguson.  He's a comedian, screenwriter, movie director and producer.  Tim trained thousands of comedy writers, producers and comedians. Many made their projects, winning international awards and competitions.
Tim Ferguson has taught comedy screenwriting worldwide, including New York University, Scotland Screen Academy, Australian Film Radio & Television School, RMIT University and Victorian College of the Arts.  Tim tours the world performing stand-up and musical comedy. He's co-written dozens of live stage comedy shows and hundreds of hours of comedy and entertainment TV.
Thanks for listening/reading
Thanks for reading this far and, hopefully, for listening to the podcast. If you're interested in writing comedy, I highly recommend Tim's materials and those of his heroes mentioned in the podcast. Although I completed a writing and editing degree at RMIT we didn't cover anything about comedy. Tim has opened a whole new world to me, one where I might be able to write funny! My own book has been on hold because I feared it was becoming a bit too melodramatic and needed something to balance it. Now I'm tossing up the possibility of rewriting it as comedy – and I think it's possible with the framework and storyline I've already mapped out! Nothing is impossible.
Stay safe and look for diamonds in the rubble.