That's a wrap #26
A wrap of today's SFF news, some links and some fun.  If you have news to be included, DM or email me.
Corin Nemec
Science fiction actor Corin Nemec was in an horrific boating accident and is lucky to be alive.  His prospects for recovery now seem to be looking good.  Chad Colvin of Gateworld says:
[Corin] is recovering from emergency surgery after shattering his leg in multiple places in a boating accident this past weekend.  Nemec, who was in Belize shooting a film… was on board a Coast Guard vessel that crashed violently into a partially submerged barge…
"We hit the sinking barge … with an enormous amount of force," Nemec told a local reporter in Belize. "[And] that threw me into the side of the boat where I shattered my femur in three places."
Nemec reportedly lost massive quantities of blood, over half of what was in his body.  He was rushed to a nearby hospital for emergency surgery and required multiple blood transfusions before finally stabilizing.
To send Corin your well-wishes for a speedy recovery, tweet @imcorinnemec.
Apparently Corin was on board a coast guard vessel on his way to shoot a scene for Poseidon Rex, a science fiction horror movie where deep sea divers awake a prehistoric monster, which then terrorises a small Caribbean island.
While IMDB doesn't have information about Poseidon Rex at the time of writing this article, Titan Global (a distribution and production company) has a synopsis here.
Thanks to Steven O'Connor for the heads up on Corin's accident.
Australia Day
Traditionally a day where white Australians celebrate Australia's birth with a BBQ by drinking too much beer, eating lamingtons and pavs (traditional Aussie fare), and the day Aboriginal Australians call 'invasion day' while lobbying for recognition.  Personally I'm all for upgrading the Australian flag to recognise Australia's origins and future as shown in this image from Wikipedia.
Also, Aboriginal Australians have said that they'd prefer 'We are Australian' to the current national anthem; the current anthem is a bit of a joke as well as not reflecting the true diverse nature of Australia.  Personally I love 'We are Australian' and would be proud to sing that as my anthem.
Google celebrates Australia Day with this pic: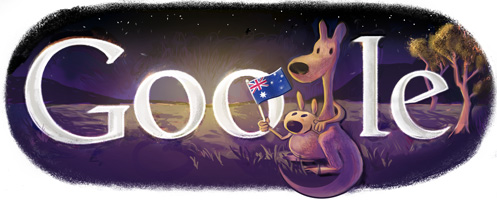 Free book
Jim C. Hines is giving away a book: go to this link and share a good thing from 2012 to enter.  Awww, Jim is a sweetie.
From George Takei:
Published author gets request from unpublished author for feedback
Oh, wait, that's never news…. 😉