That's a wrap #24
A wrap of today's SFF news, some links and some fun.   If you have news to be included, DM or email me.  Please note: this is your Saturday fix.  Please send news for Sunday 🙂
BSFA awards shortlist
The British Science Fiction Assocation announced its awards shortlist.
Best Novel
Dark Eden by Chris Beckett (Corvus)
Empty Space: a Haunting by M. John Harrison (Gollancz)
Intrusion by Ken Macleod (Orbit)
Jack Glass by Adam Roberts (Gollancz)
2312 by Kim Stanley-Robinson (Orbit)
Best Short Story
"Immersion" by Aliette de Bodard (Clarkesworld #69)
"The Flight of the Ravens" by Chris Butler (Immersion Press)
"Song of the body Cartographer" by Rochita Loenen-Ruiz (Phillipines Genre Stories)
"Limited Edition" by Tim Maughan (1.3, Arc Magazine)
"Three Moments of an Explosion" by China Mieville (Rejectamentalist Manifesto)
"Adrift on the Sea of Rains" by Ian Sales (Whippleshield Books)
Best Artwork
Ben Baldwin for the cover of Dark Currents (Newcon Press)
Blacksheep for the cover of Adam Roberts's Jack Glass (Gollancz)
Dominic Harman for the cover of Eric Brown's Helix Wars (Rebellion)
Joey Hifi for the cover of Simon Morden's Thy Kingdom Come(Jurassic London)
Si Scott for the cover artwork for Chris Beckett's Dark Eden (Corvus)
Best Non-Fiction
"The Complexity of the Humble Space Suit" by Karen Burnham (Rocket Science, Mutation Press)
"The Widening Gyre" by Paul Kincaid (Los Angeles Review of Books)
The Cambridge Companion to Fantasy Literature by Edward James and Farah Mendlesohn (Cambridge University Press)
The Shortlist Project by Maureen Kincaid Speller
The World SF Blog, Chief Editor Lavie Tidhar
Any thoughts?
My impressions of the nominated artwork is that I have a personal favourite and a second place.  My favourite is Ben Baldwin's cover of Dark Currents (Newcon Press)
and my second place is Blacksheep for the cover of Adam Roberts's Jack Glass (Gollancz).
I prefer Dark Currents for the mood and colours; if I'm judging a book by its cover, this is the winning candidate.  Having said that, my love of bright colours and general cleverness makes Jack Glass a definite second place; a truly fitting cover for one of Adam Roberts' novels: Roberts dances through the SF genre, referencing the genre way beyond my knowledge, and punning his way through crises. at least in his comedies.  Roberts is definitely on my to-read list; I haven't read more of him because my first Roberts' novel was Dragon with a Girl Tattoo and I hadn't read Girl with a Dragon Tattoo nor seen the movie when I read the book.  Floundering reduced my enjoyment.  Now I've caught up I feel a little intimidated approaching Adam Roberts – will I get the joke? – but he's on my to-read list for 2013.
Kitschies shortlist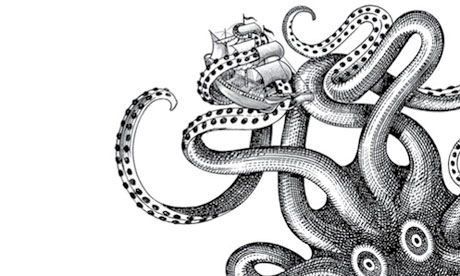 The Kitschies awards are science fiction/fantasy awards.  David Barnett of the Guardian says
Of all the things you could give a writer, booze, money and awards probably come top of most wish-lists – which is why the annual Kitschies for "progressive, intelligent and entertaining science fiction" are always a joyful affair.
 The Kitschies – born out of the Pornokitsch books website – despite being for SF, are a broad church: the only rule is that the prizes go to "novels containing elements of the speculative and fantastic"…
 Joining [Jared] Shurin and [Patrick] Ness on the judging panel this year is author and editor Rebecca Levene, Lauren O'Farrell, Gary Northfield and Ed Warren. Levene says: "Each title on these shortlists surprised me. There are settings I've never seen used before, viewpoints I've never considered, ideas I'd never thought and worlds too weird for anyone but their particular author to have invented them. For me that's the essence of speculative fiction."
The full list of finalists is on the Kitschie website with links, as follows:
The 2012 finalists for the Red Tentacle:
Jesse Bullington's The Folly of the World (Orbit)
Frances Hardinge's A Face Like Glass (Macmillan)
Nick Harkaway's Angelmaker (William Heinemann)
Adam Roberts' Jack Glass (Gollancz)
Julie Zeh's The Method (Harvill Secker)
The 2012 finalists for the Golden Tentacle:
Madeline Ashby's vN (Angry Robot)
Jenni Fagan's The Panopticon (William Heinemann)
Rachel Hartman's Seraphina (Doubleday)
Karen Lord's Redemption in Indigo (Jo Fletcher Books)
Tom Pollock's The City's Son (Jo Fletcher Books)
The 2012 finalists for the Inky Tentacle:
La Boca for Ned Beauman's The Teleportation Accident (Sceptre)
Oliver Jeffers for John Boyne's The Terrible Thing that Happened to Barnaby Brocket (Doubleday)
Tom Gauld for Matthew Hughes' Costume Not Included (Angry Robot)
Peter Mendelsund for Ben Marcus' Flame Alphabet (Granta)
Dave Shelton for his own A Boy and a Bear in a Boat (David Fickling Books)
Any thoughts on the lists?
Blood and Water trailer
A short story, Blood and Water by Kim Falconer, is in the Vampires Gone Wild anthology.  Here's the trailer:

Red 2 official trailer
If the movie is half as good as the trailer, this is a must see!

Why authors should use twitter
Matthew Dicks discusses why authors should use twitter, talking about the resources and support he's found with his twitter networking.  Matthew also talks about the thrill of connecting to authors he admires, but he misses one aspect: building a community and support-base increases authors' chances of being published (as opposed to self-published) and selling their work whether self-published or published by a house.
Brickvention
Kevin Hall reminded me that Brickvention is on this weekend: Brickvention is a Lego fan convention that is open to the public for at least part of the weekend.