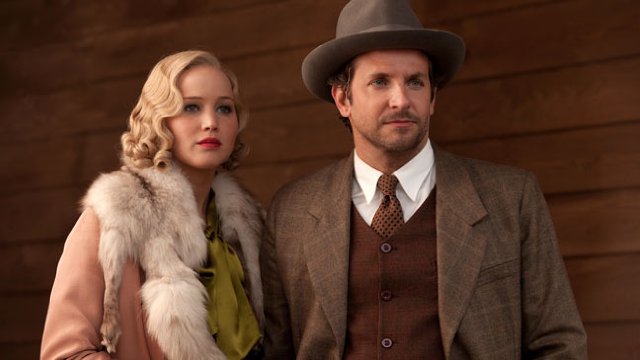 A review by Nalini Haynes
Director: Susanne Bier
Writers: Christopher Kyle (screenplay), Ron Rash (based on the book by)
Stars: Bradley Cooper, Jennifer Lawrence, Rhys Ifans
Serena starts in 1929. George Pemberton (Bradley Cooper) is on a panther hunt. There is some concern that a panther has been hunting game and possibly people but they only find evidence of bobcats. He is told that the panther, if they find him, will be a hellcat who will take his price. He continues hunting the panther at every opportunity.
George is a logging magnate in the Smokey Mountains, determined to strip the mountain bare before a national park can be established. His argument: he provides jobs. The anti-logging argument: George barely pays enough to put food on the table for very hazardous work. The park will be there for posterity and create a sustainable community. George's partner pays off politicians to delay logging so they can lay the mountain bare before the park is established. George is not a good guy.
Things aren't going well financially. The bank is threatening to foreclose.
George goes to town to schmooze. While at a gymkhana, his sister tells him about Serena, who is 'practically an aborigine', a damaged survivor of a fire that killed her family. However, she grew up in a logging family and knows all the tricks of the trade. Although her family died in the fire when she was 12. And we know nothing about her life since then in the female-restricted 1920s. What is probably implied and is stated later is that Serena has a fortune. So George pursues Serena in one scene, introducing himself and proposing marriage. The next few scenes are fairly graphic sex scenes. Later we learn that they did marry. Later still we learn that George has deceived Serena, who has committed herself financially to supporting George's endeavours.
The newlyweds return to George's logging camp. When they're greeted by the locals, the girl George was screwing is very pregnant. Serena says it doesn't matter while clearly establishing a boundary: George is to have nothing to do with the pregnant woman or her child.
From here the plot is fairly predictable except in its utter failure to use the politics and corruption to build tension. Things happen then we move on. Then other things happen.
Spoilers, Sweetie
Why did George face jail if his partner was paying the bribes? Couldn't George plead ignorance of the bribery? How could the bribe-payer not go to jail while dobbing in the non-bribe-payer?
After attempt at conviction number one, why keep the ledgers recording bribes in the safe? Why keep them at all?
Why was the second man motivated to testify against George? Why would the second man go to jail although the first man wasn't going to go to jail?
Why weren't Serena and George arrested?
Spoilers end
WHY WERE ALL CHARACTERS TWO DIMENSIONAL?
Like Gone Girl, Serena's themes are misogynistic: once again, the woman is the villain of the story, entirely narcissistic and self-centred, pushing not one but two men to murder for her.
Serena has beautiful scenery and an understated music score with a pedestrian plot. Serena may appeal to those who love the Bronte sisters' Vilette and Wuthering Heights and, perhaps, movie goers who enjoyed Gone Girl. I didn't enjoy the aforementioned books and movie and I didn't enjoy Serena. However, I give Serena credit for using literary writing techniques. Hence the two stars.
IMDB was more generous but for any movie to get below 7 stars you should think twice before watching it.
Rating: 
 2 out of 5 stars