Have you ever sat in English, literature or film classes and been forced to search for symbolism? Have you ever wondered if a spade could just be a spade and not Chekov's Gun? Have you ever wondered if that character is wearing clothes because it's cold and not for some mystical purpose?
In 1963 Bruce McAllister was over dissecting literature for symbolism so he wrote to 150 authors asking them questions about their writing and others' interpretation of their writing.
Was the symbolism intentional? Y'know, that symbolism for which English students are sentenced to search?
Ray Bradbury apparently replied: "…to warn you not to get too serious about all this, if you want to become a writer of fiction in the future. If you intend to become a critic, that is a Whale of another color…Playing around with symbols, even as a critic, can be a kind of kiddish parlor game. A little of it goes a long way. There are other things of greater value in any novel or story…humanity, character analysis, truth on other levels…Good symbolism should be as natural as breathing…and as unobtrusive."
The Paris Review includes numerous survey responses — in image form, complete with the author's handwriting.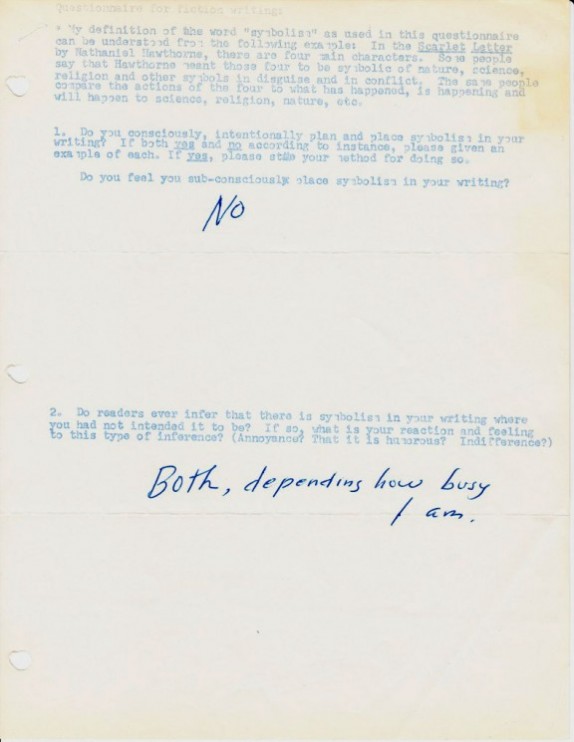 Lucas Reilly of Mental Floss dug a little into the survey and its answers, celebrating McAllister's eventual career as an English professor.
I wonder if McAllister subjected his students to the same search for Deeper Truth that his English teacher subjected him?
We become that which we hate.