Podcast: Play in new window | Download
Subscribe: RSS
Rowena Cory Daniells fantasy and crime author talks to Nalini Haynes of Dark Matter
Recently Rowena Cory Daniells was in Melbourne for the Sisters in Crime convention. Just after flying in, Rowena met with Nalini Haynes of Dark Matter to talk about Rowena's novels, writing, making book trailers and much more.  This interview is available as an MP3 (podcast) at the bottom of the page and as text.  It starts a little abruptly because it was originally intended to be text only, and Rowena and I had already said 'hi' and chatted a little before the dictaphone was switched on.
day job
I hear you work at Quantum College? 
Don't tell me you know somebody?
No, I've been doing my research. What do you teach, because you're a writer and you're teaching at this, um…
It's games development, multimedia and 3D animation at the college. I teach one subject which is character, narrative and how to write a film treatment. And the next subject is writing a short film script, storyboards and animatic, which is where you take the storyboards to the next stage without actually going to a full animation.
So you're not actually an IT person, you're about the story.
Yes. Because game designers need to know how to create a good story, it helps with immersion.
It really does.
Yeah. The commitment to the characters and the story and the gameplay.
I play World of Warcraft. I have no commitment to my characters.
[laughter]
Plus 3D animators need to know how to create a good story because they're animators. And the multimedia people also need to know how to create a flowing narrative, even if they're designing a web page. It's what attracts people in, where they go, how you guide them through. It's a bit of a long stretch, but it is good for them. People have said to me they have discovered such a love of storytelling through the subjects that I teach. Or they have discovered they're passionate about film and the way you tell a story through the unfolding images of film. I'm passionate about it. They often say to me it'd be really nice if this (King Rolen's Kin) got made into a film. My absolute hero to make my books into film would be Alan Ball who does Trueblood and Six Feet Under. He's brilliant. Dream away.
booktrailer
Well, stranger things have happened. You've already created a trailer for your book. Or you and your husband have created a trailer for King Rolen's Kin.
Yes. There is a page on my website with the trailer, with some comments from him about how he made it.
I don't think I looked at the making of, but I did look at the actual trailer itself. 
It's really good. I am so lucky. I sent the trailer to my publishers.  They got back to me and said, 'Honestly, it's one of the best we've seen.' So that's high praise. That's Solaris in the UK. They're with Rebellion, the games company. My husband is this darling man
who has dedicated himself to going out to work in the public service for the last 30 years, supporting our family. He has now retired and can do what his passion is, which is 3D animation computer graphics. He's doing book trailers for mainly my writing friends at the moment. The idea is that if enough people see them, they'll come to him and he can do it full time.  He created Trent Jamieson's trailer (below).
We've just completed a trailer for Marianne de Pierre's new YA book, Angel Arias. So there we were, we've knocked out a wall between the kitchen and this pokey little room that was in the middle. We've got this big blue screen up. He built a dolly which you sit the camera on to do zoom shots. We've got our kids and their boyfriends and girlfriends dressed up. This particular one was with a steam punk theme, so they're wearing top hats and an old microscope that belonged to my grandfather. They're lighting candles against the blue screen and he's filming it. Then he takes the background out, he finds images and he puts them in front of it. He has so much fun.
It sounds like a dream come true. 
Yes. When you can follow your passion, you're really lucky.
Definitely. Or in this case it sounds like good planning, because he's retired.
Well, he has retired, but then they invited him back to work for a 3 month contract because he's specialised in what he can do.  So he's been back at work for 3 months. Then they said, 'Can you stay an extra 3 months?' And he said, 'Yeeees.' Then they said, 'Maybe you can stay on a couple of days a week?' So who knows what is going to happen. But yes, the idea is that he can work on the things he loves to do. It's really lucky for me because with The Price of Fame coming out in March next year, I want a really cool trailer for this. There's a ghost in it, it's very gritty and set in Melbourne. It follows through timelines. With The Outcast Chronicles, a completely different feel. It's very exotic, Byzantium, treachery, love… Again he has all these ideas he wants to film.
cover art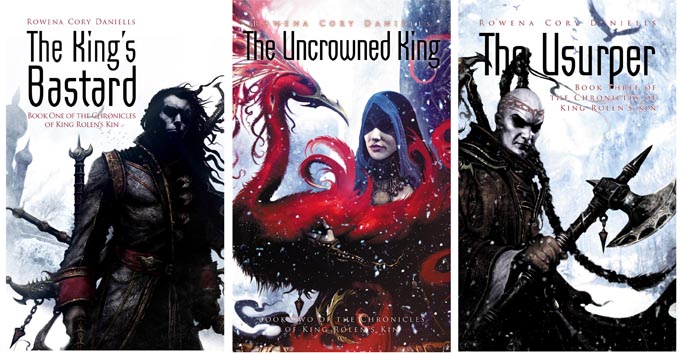 That's my daughter on book one (of King Rolen's Kin). On book two that's my son and his girlfriend. My other son posed for book three, although it doesn't look much like him. So we can take the kids and film them doing something, then we can stop it and do something different inside the cover.
It's wonderfully personal and the images look professional. 
We didn't do the covers although we both have a background in doing covers and illustrating them.
Yes, I want to ask you about that later.
With the King Rolen's Kin covers, the publisher asked if I had any thoughts on the covers. So I went away, I researched all the latest covers. I chose the ones I liked and said this is the kind of look I'd like to have. Then I created what I call a 'resonance file' for the artist. Because I have a background in illustration, I tend to be very visual. So I collect images. King Rolen's Kin was based around  medieval Russia, so there were beautiful ornate buildings, the peasants' buildings were works of art as well. Not a single nail, all dovetailed together. I collected all of that. And beautiful snowy landscapes. I also collected images of what the costumes would have looked like, the way people dressed, and I wrote a description of the personality of the characters. When the artist produced the first cover, the guy is standing there and it's all moody with a snowy background and everything –
Yes, that's part of the trailer isn't it?
Yes it is. So he produced that. Then we said, 'Do you mind if we use your artwork for the trailer?' And the publishers agreed. So he supplied the artwork. Darryl did a 3D world for it, with snow in the background, the buildings, wolves going by. Then we took the actual drawing of him, and we 2D animated it with the wind blowing his hair. Then you have the pullout shot, then it is on the cover. With the second book cover we got my daughter and shot her against the blue screen and sent the artist, Clint Langley, a pile of photographs. He chose the one he liked best, so we sent that one over at 300dpi (dots per inch, a resolution so the image wouldn't be pixelated). And he painted from that to create the covers. So when it came to The Outcast Chronicles' covers, we set up the photo shoot, I called my son and told him to bring his weapons over. He came over with his swords and his axes and things. We dressed them up against backgrounds, lit them and photographed them. Clint chose the ones that most appealed to him and he painted from them.
So he's actually painting not just doing photoshop?
I have not asked him that question directly. Looking at it I would say that he might do what my husband often does, which is take the artwork and put a layer over it which is slightly translucent and you paint, working with what's in the background but you give it a painterly feel. So I'm not altogether sure what he's doing. But you can tell he's painted all the ornate costumes and setting.
And secondly, your son has weapons.
Yes. He has been into martial arts and medieval re-enactments as you do, so of course he has weapons. Are these like real weapons or are they the foam LARPy weapons? No, they're the real weapons. Which means they get wrapped up in a blanket and hidden so the rest of my teenage sons don't decide to, 'Oh let's take the sword out into the backyard and chase the cat with it' or something.
[Laughter]
booktrailers
Yes, I had teenage brothers like that. They're dangerous. You said R&D studios –
Yes, Rowena and Daryl or Research and Development, whatever you like.
I noticed the pun there, I quite liked that. So R&D studios came about because Daryl retired. Were there any other reasons?
He's been doing it for a long time. He's done covers for Eidolon, he's done covers for Aurealis. Internal illustrations for different magazines.
Aurealis is an Australian magazine –
Eidolon was also an Australian science fiction magazine. For about 15 years he's been doing little bits here and there.
So this has been a passion of his.
Forever. Oh yes. He comes from a background of in the late 70s and early 80s he was part of the comic scene here in Melbourne.  And of course comics are only one step away from animation and film because it's like storyboards.
But he stuck with the day job in the public service.  
Well, we did have 6 kids.
Unfortunately bills need to be paid.
Yes, and mortgages need to be met.
So now he's reaping the benefits of all his hard work.
Yes, and we have all these kids we can dress up. [Laughter]
A very distinct advantage. I'm doing an editing course at the Victorian Writers' Centre. This week I was discussing book trailers with someone else who didn't think a trailer would encourage her to buy a book. I'm aware that book trailers are something that is   coming in more and more.
How old is that person?
Younger than me. 
Right, well, I've been doing a bit of research. Generally speaking, the younger a person is, the more they like book trailers because of playing computer games and seeing movies and growing up on TV. Whether it encourages people to buy books or not, I don't know. But what it does is, take the Rolen's Kin trailer, gives you a real feel for the world. Look at that and think, 'Mm, I could get into a book with that feel, yes!' So the ideal book trailer doesn't have a whole blurb on it which tells you the story. It has a teaser and the resonance and feel of the world.
So you say, 'Oh yes, I like fantasy, I like this kind of political intrigue… that is going to grab me.' And you don't have any of the spoilers that might be in the blurb. It seems like the younger you are, the more book trailers might appeal.
Is there much demand for them?
More and more. When my first trilogy came out, The Last T'En, we did a book trailer in 2002 for that and there was nowhere to show it. We were ahead of the curve basically.
You were ahead of the times.
Yeah. We were doing book trailers back then.
Was this you and your husband?
Yeah. It was really nice too. Considering the technology we had available, we did quite a good job. I think it's still up on my website rather than my blog (Just checked, it isn't there).  I have the blog that has the pages behind it, plus I have the website. I'm trying to work out whether I need to maintain two or whether I'll just combine them. I guess a lot of people are in that position. Because, you see, I had a website even before my publishers were doing that. The first book came out in 1999.  [Laughing] And people say our generation is behind the times!
That's awesome!
When you have kids and a husband who loves toys, technology toys…
IT.
IT, yeah, and a husband who will go out and buy himself his own dolly so he can do dolly-zooms …
That's someone who is passionate about what he is doing. That is awesome. You were way ahead of the times. Everyone else had to catch up to what you were doing. How did that work for you?  
It meant that, other than putting the book trailer up on my website, there wasn't really any way of showing it at the time. By the time I got back into publishing with my new trilogy, people were doing book trailers, there's YouTube, there's video, you can show them on Facebook, you can show them on your blog. There are all these venues.
What concerns me about book trailers is that I found your trailer because I was researching you. Another book trailer I've seen recently that was professionally produced was Daughter of Smoke and Bone, but I saw that because I was researching that book.  How do people hear about them to see them without actually following a particular author?
There are book trailer competitions.
Really? Professional or for fans?
I think a lot of authors are doing their own book trailers, or they're hiring someone to do them. The publishers are getting book trailers produced. And the book trailer competitions. Say I go to Supanova, (I tried to do this last time but it was too complicated), I could bring along a laptop or computer screen and I could run the book trailer from that. If I run a workshop, I run the booktrailer. If Marianne and I do a talk, which we do at Supanova, I create looping presentation which has our book covers and our book trailers. So while we're talking, it's playing behind us, because people are visual. This gives them something to look at while we're talking.
brisbane supanova
So are you going to be doing that at Brisbane Supanova?
I don't know if they want us to talk or not but, being a girly swat, I have something prepared which I can pull up and use.
I must admit I'm tempted to go. The accommodation is the killer, but I'm tempted to go.
You're based in Melbourne?
Yes, I live here. The reason I'm particularly tempted to go to Brisbane is Brisbane Supanova gets more people and a higher  percentage of costumes.
It does, and the costumes are brilliant. Absolutely brilliant.
 April of this year it was 25,000 or 26,000 in Brisbane.  
It was.
And I think 18,000 for Melbourne with a lower percentage of costumes.  
Yes. And getting around in Brisbane from Dymocks bookstore across to where we were supposed to be in the panel it was so packed, and the floorspace… you wouldn't want to be claustrophobic. So, anyway, I'm looking forward to it. It's going to be lots of fun.
the journey
It sounds it. On the Supanova website it says you moved to Melbourne in 1976 with Paul Collins and set up a small press publishing house.
What brought you to that phase in your life? 
I was 18. It seemed like a good idea at the time.
Doesn't everything?
[laughter]
Yes, especially when you're 18!
That's awesome.
It was mainly Paul's idea. He wanted to be a published author and I thought, 'Wow that sounds exciting and fun! Sure, let's go to Melbourne.' When I got to Melbourne I got involved in fandom. I thought, 'People I can talk toooo. Aaaah.' Now you've got Supanova, half the TV shows are science fiction or  fantasy based, but in that period, growing up in Brisbane… In the 70s…
You had Dr Who.
That was it. And if you had a favourite show, they wouldn't show it, they'd move it around, they'd put the football on…
That is still relevant.
I had never met people I could talk to about things that I was passionate about until I came to Melbourne.
So you're actually from Brisbane and you moved to Melbourne then you moved back to Brisbane.
Yes.
What was fandom like for you apart from being able to talk to people? 
It was interesting because everyone was so articulate, they were doing some sort of a degree or they were already through a degree, and it just opened my eyes. We had the bookstore, we would go to conventions. We were small press publishing… Kudos to Paul because he did so much work on that, he applied for grants, he got the money, he was paying advances… What killed it for him in the end was two distribution companies going bust while owing him money. That was the end of it. It's a learning process. Plus it was so much harder to publish in those days. When you had bromide machines and 'cut and paste' meant cut and paste.
I love computers.
So do I. You can do now on a computer things that took hours before. Letraset. I don't suppose you remember if you ever used Letraset? You would buy the Letraset sheets and it would have different sized letters and you would have to rub them through onto the artwork. That was how you created your print.
I've never used it but I've heard about it. Ow.
So I feel like a dinosaur really. I've come from those days to this.  We have the technology at home to lay out a book on our home computers. Daryl has turned some of my short stories into eBooks, which I give away on my website. So much freedom. The way publishing is going as an author, I can talk directly to people who have read my books. I get up in the morning, turn on the computer, because I'm addicted to it. I'll read my emails and check out twitter. I'll have comments on my blog saying, 'I've just read the three books in three days. When is the next one coming out?' And that is lovely. Even ten years ago you didn't get that immediate feedback from readers. Now I can say to them I'm working on the new trilogy for King Rolen's Kin two.
writers on the rise
Marianne and I started RoR. It began as wRiters on the Road, then we discovered there already was a wRiters on the Road, so
one of us said, 'Oh, wRiters on the Reisling!' And one of us said no. So then it became wRiters on the Rise. That has been going 10 years now. We started in 2001. What Marianne and I found was there was a lot of support for writers who were just starting out, especially in the short story link. We'd started Vision Writers and it was terrific, we'd had so much fun with it. But we wanted to take our writing to the next level. So we asked around and we found Margo Lanagan, now a four times World Fantasy winner, Tansy Rayner Roberts who had just won the inaugural George Turner $10,000 fiction prize. Maxine MacArthur, another winner of the George Turner Prize. I think it was just the 5 of us that first time. It was a big commitment. You commit to writing a book then reading everyone else's book the month beforehand. Writing a report on it. Flying interstate, staying for a weekend. We would do a book in the morning and afternoon every day, and maybe we'd fly in on Friday and do a book on the Friday afternoon. So it's really intense. 2 ½ to 3 hours on a book and we'd go around and discuss whatever struck us.  Whether there were world building flaws, logic flaws, pacing flaws, characterisation flaws… Now it's eight people, we also have Dirk Flinthart, Richard Harland and Trent Jamieson.
I've been offered an interview with Trent.
He's really good. Richard is also really good.
I've already interviewed Richard. I haven't actually read his work, but he was here for Continuum, so I grabbed him while I could.
We did bring them in because we thought we should have the male point of view. It's good because if you've only got one critique partner and there's something in the novel they just don't get, it could be about them. If you've got a group of 4 people reading your novel and 3 of them are saying, 'this really works,' but one is saying, 'I don't think it does,' then it is probably a quirky thing from that person. You have a consensus of feedback. The short stories Margo has worked on or the novels that we've worked on, they mightn't come out in twelve months. They might come out in 5 years. But they have come out and been published and they've done well. It's this thrill because we love writing for the craft of writing. When we talk about a book, we take it to make it better. It's that passion. So when one of us wins a World Fantasy Award, it's like all of us win. Or we've been shortlisted for the Aurealis Awards or won Aurealis Awards…
You've all contributed.
Yes. It's that wonderful feeling of sharing the joy.
Share your joys, you double them. 
Yes. Or in this case, quadruple them.
Wonderful.
So we're having another RoR in January in Tasmanian this time.  I was trying to get the first book of the new King Rolen's Kin
trilogy finished in time. Now I've got to write the novella before I can write the new book, because things have happened in the
novella that are included in the new book. Plus I need to get all of that done. We're renovating. I teach.
No kitchen I hear.
creative journey
I've actually run away this weekend. I've left them with no kitchen that works. They're doing the washing up in the laundry tub. I know that they will just get takeaway. Every time I go away, they just get takeaway, even if there's food in the fridge. It will be another week or ten days before the kitchen's working. But yes. I have to get everything done, be creative and sometimes you need that quiet time for the brain. I was reading that because we have constant stimulus, people are surface living. They're not living in the internal world of the mind as much as they used to. So getting away and just having a little bit of time is so good for a creative person. I was catching the train this morning to catch the city train to get to the airport. I've been travelling since 6 o'clock. I suddenly had this story idea, so I grabbed my itinerary and my pen, and I'm writing on the back of the itinerary. I brought my laptop with me. I intend to write as much as I can this weekend. The temptation is to simply disappear into your books and not be sociable at all. Then it's physically hard to remember how to be sociable. Because I've had a large family and I'm now teaching, it's been really good for me. Otherwise I'd probably be this absurd, obscure, slightly weird hermit who never comes out of the writing closet.
You feel like you're getting a good life balance?
I feel like I'm walking a tightrope, but I think it's been very good for me as a human being. Plus having a large family and being in a position where I'm teaching and I'm out mixing all the time, gives me a real insight into people.
I can just imagine, seeing a whole classroom full of people, you'd have no lack of characters. You've started a national genre award as well as RoR.
I have served 5 years on the Aurealis Awards, so I read horror, fantasy and science fiction. When the awards came to Queensland I was on the management committee and helped structure them and set them up for the first two years. I've also been on the National Committee for Romance Writers of Australia. When I first was involved with that and it came to Queensland, I set up Ruby, which is the Romantic book of the year award. So that covered short romances. It also covered mainstream books that had a romantic element in them. By pure co-incidence, my first fantasy trilogy came out, and there was a romance running through it. In the second year of the award, my first book won it. Which was not rigged at all, it was complete coincidence.
But it was lovely.
Yes, it was lovely. It was judged by readers, who had no idea who I was. In fact it was published under a pseudonym, so it was total coincidence.
With regards to the pseudonym, I gather that is less common in Australia than other countries. So why the pseudonym?
Because I was writing primary school readers under Rowena Cory Lindquist, then I wrote this rather hot fantasy novel, very sensual. I thought that does not blend at all, so it came out under Cory Daniells. Cory is my maiden name, and Daniells is my mother's maiden name. By the time the new trilogy came out I was sick of people saying 'Hey Cory', so it became Rowena Cory Daniells. Long story.
You've given a lot of support to writers behind the scenes with the genre award, running workshops for writers –
Setting up Vision Writers. I worked on the management committee for the Queensland Writers Centre. I was on the management committee for the Brisbane Writers Festival. I was on the Aurealis Awards. I was on the Romance Writers of Australia national committee, in RoR and in Fantastic Queensland, which was behind Clarion South. And Envision, which ran three years in a row, which was getting a pod of writers with a published author and they'd read their manuscript and help them do rewrites over a week. People came along so fast when a published author can look at what they've written and say, 'No, no, you haven't got it, this is what you need to do. You need to bring this out more.' And they say, 'oh, of course!'  So they get that feedback.
And now I'm teaching writing in the sense that it's film treatment, script, character, world building, logic, pacing, all of that. So
are you asking me if I love it? I love it.
Can you tell me more?
A lot of work and preparation. I think I also have this… I was a big sister. I was the eldest of my family and I looked after people.  Plus I'm a busybody and I like to organise things. Obviously having six children wasn't enough to keep me busy, and writing of course.
What have you learnt along the way?
That I don't know anywhere near as much as I think I do.
Oh yeah, but we all get to that point.
Yes, we do.
Sometime after you turn 18 you learn that.
self discipline
Every day I wake up and the first thing I do is look up my emails and twitter. What I find is I follow a lot of political activists and people who are involved in the sciences. I follow those links. I'm always looking for something obscure and interesting about the world and human nature. It's like I'm hungry for that, and all of it's trying, as a writer, to make sense of the world.
Is there ever a point where social media becomes Addictive?
Yes. Intrusive. And being used as procrastination.  Well, I do find that I might be writing away and I might get to a scene where it's not quite working. NO! I WON'T! I will work through this scene!
So you're very disciplined.
Most of the time. Especially when there's a deadline. Because when you have 6 children you learn to get stuck into something and just do it. At one point I was writing or illustrating and I'd have a baby and I'd have them plugged on and I'd be typing with one hand, swap over, type with the other hand. Paint with one hand, swap over, paint with the other hand. You've just got to keep going to get things done.
work/life relationship
You're currently lecturing at Quantum and teaching storytelling. How does this marry with illustrating and writing novels?
It combines the two because it's script writing and screen writing. So my background as an illustrator and a writer means I think visually. And I'm also passionate about film. The more I learn about it, the more I see in it. So I'll be watching something and I guess it's like an architect looking at a building, seeing all the influences from the past in the structure. As a writer I read a book. I see where the author has come from and I see the structure of the book. If I watch a film or TV series, I'm analysing it the whole time for story structure, characterisation, plot, logic, and visually I'm analysing the story flow through the to the next. The way they frame a shot. I appreciate it on all those levels. I really feel lucky that I can do that. Then, just like when you're reading a book as a writer, the story is so powerful, you forget you're reading a story. Every now and then you'll come across a TV series or a movie where you're swept away.
Then you'll know that the story is really powerful because you forget to analyse it.
That's not as easy when you're reviewing, but yes.
When I had my bookshop I would read a book in the morning, a book in the afternoon, and a book after dinner. If I found a book I liked, I would read it the first time to discover it. The second time to find out what really worked. The third time to find out where the story wasn't as powerful. If you're reading it for the third time, you know what's coming, you're analysing it, involved in it. Obsessive. I can see you thinking that.
No, actually, I was more thinking about the pile of books I have on my desk and thinking I wish I had more time to do that.
That was before I had kids.
self-publishing
I'm in the post-kids phase, so I don't have that excuse either. I can't find your children's books. Where are they?
Books that I illustrated were in the 80s, there are probably a few copies in classrooms, but that's it. They're out of print. The books that I wrote in the 90s (mainly) are out of print too. We're talking about 1996 for the first children's book and the last one was in 2008. They're all out of print.
Is there any hope of bringing them back? Especially with ePublishing.
I would say that the rights have reverted to me on everything because once they're out of print the rights revert. I don't know whether I would bother to bring the stories back because they belong to a place and a time. I've moved on. My career is focused on adult books. If I came up with a story idea I was really passionate about, a children's story, I would write it and it would be fresh and new. I'm happy to let them go, to set them free and let them go. With regard to the short stories though, you put your heart and soul into a short story and there is just as much work as a novel. Then it appears in a small press publishing thing or a magazine and that's it. And you think, 'But I really liked those characters, that was interesting.' I was talking to somebody who said that a lot of authors were getting 3 short stories and putting them into one eBook to sell it. I thought I might do that. I have released 2 of my short stories on my website as giveaways, just to trial it out. It means when I have a spare moment, creating a Paypal account and converting them all to eBooks. Like I've got the time to do that. But I should. I really should.  Plus I have the version before it was edited, which means I have to go and find the printed version after it was edited and reediting. Nowadays you do everything via email with your editor,  and you have the second to last version or maybe even the last version on your computer but this was before that. There is quite a bit of work involved.
writing for children
I don't envy you that. How did you make the leap from writing for children to writing for adults?
Before I was 25 I had written about 10 books. 2 of them were kids' books and the rest were adult, fantasy, science fiction, SF/mystery, and this one the Price of Fame, I wrote the first draft of that when I was 23. So in a way I wasn't a children's book writer. I didn't bother to send them out because I thought at 25 I didn't have the life experience to write anything worthwhile. Then I had 6 children in 10 years. Then I took the first version of this when I was 36 and submitted it to the HarperCollins $10,000 fiction prize. It got in the long shortlist. So I figured at 23 I was writing at that level. Then I got back into writing. Because I was surrounded by children I started writing children's books.
A lot of the things the children did I turned into books. Being able to write books that my kids played a role in was fun. They took them into class to show. I even set one of the books in the school where the kids went. It really involved them and was fun for them.
Then I got back into writing what was originally my passion, which was science fiction and fantasy.
Is it easier to write for children or for adults?
A paediatrician and a children's writer go to a dinner party. The paediatrician says, 'when I retire, I'm going to write for children.' The writer says, 'When I retire, I'm going to be a paediatrician.' You'd spend 10 years on average, learning the craft of writing before you'd get published. So it's a long apprenticeship. Writing for children is a very specialised area. Writing for a 5 to 7 year old is different for a 7 to 10 year old, is different for an 8 to 12 year old, is different for an 11 to 14 year old, it's different for the boys who might need a 'high/low', which is high interest, low reading level. Then of course there's the cross-over, which is 15 years to adult. Plus there's the feel. I was writing in the mid 90s to the mid 2000s. So the feel that I was writing for children was at that point, because my kids were kids at that point. I would read to my kids. I pulled out the Narnia books to read to my kids. They say, 'Golly gosh Edward…' I'm thinking, 'Aaah!' It's so… it's like a piece of history. Books date, especially children's books because of the feel and the sensibility of the children. And what interests them; it changes so rapidly, especially in the last 50 years, where every child now has an iPod and a mobile phone and a computer in their room and is hooked up to the internet and the whole world. It's a different world.
Yes. I can't remember what it was, but recently I was watching something on TV that was made in the 90s –
And someone pulled out a phone and it was a brick!
No, this was set before mobile phones, and I was thinking this story made no sense in our current world because they didn't have  mobile phones.
Yes, and nowadays when you write you have to take into consideration all the technology and how you can be in touch with everybody all the time and how we make decisions differently, how we can access money at any time, we can go to the shops and buy food at 9 o'clock at night. It's totally different.
Yes, it's a totally different world to the one I grew up in. 
Me too.
books RCD wrote
Without giving away any huge spoilers, what would you like to tell me about your published books and your upcoming series?
Well, King Rolen's Kin is the fantasy trilogy you reward yourself with after a hard week at work on a Saturday afternoon when
you just want to sit down and be swept away.
That's definitely the feel of the trailer too.   
Yes. The Outcast Chronicles are a little bit more detailed. It is a prequel to The Last T'En trilogy. People are still coming up to me, ten years after publication with their original copies of this trilogy, and getting me to sign them because they are so passionate about it. So the new trilogy is set 600 years before that, but also involves the style of magic I created for that world. People will find it like an intricate Chinese puzzle where, once you get into the world, you have to keep reading to try and follow the characters and find out what happens to them. I think it's obsessive because for me it's obsessive writing it. I think people will find it different to King Rolen's Kin.
Am I understanding correctly that they're set in the same world?
No, KRK and OC are set in different worlds. There was this gap where The Last T'en came out in 2002. The editor left, the publishers didn't publish anymore. So I was orphaned. There was this gap of six to seven years where I was writing and I wasn't getting published because the agent retired… it was all very complicated. But I just kept on writing. So what I would do is write the first book or two of a series, and then I'd say, 'Oh, I don't know if that will sell,' so I'd put it aside then I'd go and write another one. So I have all these beginnings of series. So I have this backlog of books and series.
And now they're starting to come out.
Well, the King Rolen's Kin trilogy has come out and The Outcast Chronicles us due out in 2012, but now my publishers want a new King Rolen's Kin trilogy that I haven't started at all. So yes, it's all very complicated, with me trying to keep track of all these different worlds and characters in my head… but it's fun.  I'm very lucky.
worldbuilding
It's good to hear you say that, especially while you're faced with all this work. How difficult was the world building for King Rolen's Kin?
I am obsessive about world building. It absolutely fascinates me. I don't have a science degree at all, but I have always been fascinated by aspects of science, particularly sociology and anthropology and linguistics. My problem is not that I don't do enough world building but that I will do too much and my RoR colleagues will say to me, 'Reel it back, Rowena!' So yes, I love the world building aspects. What you see in the books is just the tip of the iceberg of what I know about the world. For instance in King Rolen's Kin, someone said, 'What's this person talking about? They say north is cold and south is cold! What's wrong with them?' Don't you realise this is a world where they're inhabiting the equator, so north is cold and south is cold. But it's on an elliptical orbit so that it gets really cold in winter and really hot in summer. That's all there behind it, I know it and it is there if you read it and look for it, but if you're in this mindset  where you only think of our world, you might have trouble. That was one thing that was interesting about my first trilogy.  I set it in the southern hemisphere, and people who read it in the US said it's really interesting reading about a place where, the further north you go, it's hot. To them it's a really unusual idea, but because we're from the southern hemisphere, we've got this mindset where we just accept that you can have north hot, north cold, you can have all your seasons around the wrong way… I think in some ways being Australian and living in the southern hemisphere gives us a more open mind for imagining fantasy worlds or science fiction worlds, because we're already removed from the northern hemisphere world view.
Yes. In the books I've been reading this year, if it's getting warmer to the south, it is a northern hemisphere book. If it is getting warmer to the north, it is a southern hemisphere book. I can pick that without looking at the author.  I think it's really interesting. I think it's really good if we can have more flexibility. I like the fact that you stuck the Halcyon abbey on the equator. I thought that was different, that was a first. What made you do that?
I don't know, I just did it and it felt right.
[We watch Marianne de Pierres get out of the car and talk about my upcoming interview with Marianne. :)]
Ok. King Rolen's Kin. It's not one thing that triggers the creative process, it's a whole pile of little things. I was reading about medieval Russian society. I was watching a documentary on what happens when you get a volcano or an impact crater, and you'll have an atoll effect, with impact lines coming out like the spars that I created in King Rolen's Kin. You'll get maybe an island with a lake in the middle of it… I took all of that. Plus I was reading about medieval Japanese history, where because you've got the islands and they're very mountainous and there's only small areas of arable land, you've got this population pressure and a warring society trying to grab that arable land. So all these factors came together. The world just grew as I wrote it, rather than world building beforehand, because I read so much anyway it's all there in my head. It just comes together as I write it. And if there is something I don't know I will go and research it. I have a fantasy duology that I'm really passionate about, set in a tropical paradise. At one point this island burns,  it's dawn and the smoke goes up and forms this long trail across the sky. It's this person's home but they don't know that it's burnt, but as they get closer and closer to the island, they have this horrible feeling that it's their home that's burnt. I had to work out how far away you can see smoke. If you're sitting in a row boat, where is the horizon line? If you're in a sailboat, in
the crow's nest, how far away is that horizon line? How far will smoke carry? I was doing all this research, including looking at the fires in Victoria from satellite, seeing how far the smoke carries. So in the situation where it's very specific and I need it to be realistic, then there is quite a lot of research to put it all together to make it work. I'm hoping that duology will find a home. It's very different from astandard medieval fantasy, and it's fun to do something where I can get quite off the wall.
Related to that, Kim Stanley Robinson said that sometimes he'll get really incredibly irate fanmail because he's made a mistake in the world building and it's caused a suspension of disbelief. Have you encountered this? 
I had somebody email me and say, 'an orange garnet is called a citrine, and you didn't call it a citrine.' I emailed them back and said, 'If I called it a citrine, people would have had to go and look it up. But if I say an orange garnet, then they can visualise it without looking up.' There's a fine line between being too technical and making it accessible. When I write, like in King Rolen's Kin, I don't use too many, say, nautical sailing terms because you'd need a dictionary to work out what I'm talking about.
Like Port and Starboard.
And all the technical terms for the different sails and the ropes, and the bulwarks around the sides and where the water would run off through the holes when the water comes onto the deck. So if you have someone on the ship who doesn't know about ships and you're seeing it through their eyes, then they just talk about the little slots on the deck where the water runs off. The reader can visualise it and you don't have to get too technical. I try to write it so that someone who doesn't have a deep knowledge of sword fighting, or the sea, or whatever, can access it.
How hard is that?
It means a bit of research and visualising. I went aboard the Endeavour when it was up in Brisbane. I walked around and saw the size of the cabins and how wide they were and how small the bunks were… You immediately get that – my goodness, this ship carried 200 men and they sailed for two years on it…
No cats swinging on that ship.
No, no. So it is nice to be able to do that. If I had a heap of money I'd love to go to Europe and go through all the catacombs in Paris, and… the things I would do! But I can't do that, so I read a lot of National Geographic and New Scientist, and the internet is wonderful. If I want someone to fire a flintlock pistol, I can go on the internet and see different sorts of pistols. Somebody on one site showed how to load the pistol. They recorded the process it goes through as it fires, how much of a puff of smoke you get, the sound that it makes… Incredible detail. I don't have to go to a museum and ask them to load a pistol for me; I can go on the internet and I can see it.
research
Do you do a lot of research? 
I do because I'm obsessive and I'm fascinated by everything. Ninety per cent of it I just research because it's interesting and I can't stand being bored. I'll buy myself a New Scientist to read on the train going home. I'm like the nerd in those TV shows. There was an episode of Buffy where they open up the nerd's locker and find a copy of New Scientist and Willow goes, 'Oh, one I haven't read.' That's me.
Living in Brisbane, how do you connect with the snow and ice in King Rolen's Kin?
To me it's amazingly exotic, snow and ice. I've only had one experience and that was when I was eleven. My family came to Canberra and it snowed. When I was eight or nine I picked up a Reader's Digest. There was this first account story of this family, a father and two children who had been caught out in the Rocky Mountains during a snow storm and he built a cave for them. He put his body across the only gap. The two children survived but he died.
So this is where all your detailed snow caves come from.
They're real things and I've researched them, but I never forgot that story about the father. Everything when you're a creative person, everything you see and hear, goes inside and bubbles up later. You don't even realise where it comes from at the time. It's like when you're writing and the characters take over and they're doing things and saying things to people that are new or unexpected.
Do you often have that experience with your characters?
Yes. What? Your best friend committed suicide? I didn't know that.
the future of publishing
How do you see the publishing industry in the future? 
It's fascinating isn't it, what's happening right now? I have writing colleagues based in the US and UK and they've been talking about eBooks and ePublishing for several years. We're only seeing the effects of it now in Australia. I catch the train to work; there's still a lot of people reading real books, but there are also a lot of people reading on their iPhone and Kindle. I say to people, 'How do you like your Kindle?' and they say they love it because they can get a hundred books on their kindle and if they finish it, it doesn't matter because there's another book they can read. It's not heavy, it's good for travelling. The other side to that is that I've got the rights back for my first trilogy. I can release it as an eBook because it was never released as an eBook before. I can take a trilogy which I've written which doesn't have a home, I could pay to have it professionally edited. I could release it as an eBook myself. Authors are doing more and more of that. They're making their backlist work for them. If they have the readers and they're looking for more books. It gives a novel so much more freedom. There's also the professional aspect. If you're published through a mainstream publisher, you get 10%.  If you self-publish you get 90%. You might not make as many sales, but if you make 90% of the sales, you're ahead. There's this tipping point. Previously the only way to get published was to go through a mainstream publisher. Now authors have a lot more freedom in making career decisions. Having said that, I'm really happy with my publisher, Solaris. They've done beautiful covers for me, other than the fact that it's not getting much distribution in Australia, they distribute in the US and UK. I'm really happy with them. I appreciate what they've done.
the future
What are your plans for future novels?
I will probably work for a bit longer because we've done all this renovation and we have to pay it off. But in the near future, in the next couple of years, I would like to retire and write full-time and do the creative stuff with my husband like the book trailers. Basically I just want to write and people to read what I write and to be as passionate about it as I am. You never know how long you've got. One of my grandmothers died at 104. I could have another fifty years of writing. Or I could get knocked down by a car tomorrow. I have all these books on my hard drive that I haven't polished and I have all these ideas for books I haven't written, and I just have to do it.
Not enough hours in the day.
Not enough hours in the day, no. But I also need to get out of the house and talk to people and come to conventions and spend time with my children and my long suffering husband. No, not enough hours in the day. If I didn't have to sleep it would be good.
I don't think you're in too much danger of getting too much sleep this weekend.
No.
What are you hoping to get out of this weekend?
I want to attend the panels, meet everybody, buy heaps of books,  go home, totally immerse myself in the books, the people, the world…. Because I know the science fiction and fantasy world quite well. I know the romance world quite well. I want to know the crime writing world and the whole subculture. It has a different flavour. It will be really good for me.
I look forward to seeing what you're going to produce after this conference.
Thank you Nalini. Thanks for interviewing me!
Thank you for talking to Dark Matter.