Pikachu has come to live with us, thanks to Rebecca Fleming. HarperCollins and Rebecca must have been in league because Pikachu and the pictured colour-coordinated trilogy arrived the same day.
Smokey and Edgar Allan Purr don't seem to have noticed Pikachu (yet), probably because of all the piles of recently-received books on the dining table, amongst which Pikachu has been hiding.
Smokey usually notices when I take photos of Edgar Allan Purr with books because SMOKEY expects to be the centre of attention. I was fast and sneaky tonight when taking the above photo, so Smokey missed out. I anticipate a cat fight in the future when I photograph items received; then it'll be a three-way tussle for the limelight!
The special Pikachu-themed set of books are advance reader copies of this trilogy by Anders de la Motte:
Also, EPIC WIN! The whole trilogy is ready to roll out the door, no waiting for sequels! THIS is how Motte rolls!
The minion says when I take the band off the books I should put it on Pikachu like a beauty pageant sash so Pikachu can send the message "Play or be played".
When Mr Dog Bites by Brian Conaghan
This is an adventurous romp about Dylan Mint, a guy with Tourette's. I'm sure I read somewhere Brian has Tourette's so he knows what he's writing.
Bloomsbury says:
"Dylan Mint has Tourette's. His life is a constant battle to keep the bad stuff in – the swearing, the tics, the howling dog that seems to escape whenever he gets stressed. But a routine visit to the hospital changes everything. Overhearing a hushed conversation between the doctor and his mum, Dylan discovers that he's going to die in March. So he makes a list of things he must do before he dies: first, he wants to have real sex with gorgeous Michelle Malloy; second, he's got to find his autistic best friend Amir a new best bud; third, he's got to get his dad back home from the army so they can say goodbye properly. It's not a long list, but it's ambitious, and he doesn't have much time. Sometimes you've just got to go for it – no holding back – and see what happens . . .
"This is the launch of a major new writing talent. Brian Conaghan makes you travel every step of the way in Dylan's shoes, laughing and crying – often at the same time – as Dylan faces the twists and turns of an unfair world with glorious optimism and wit."
 Steampunk: Victorian Visionaries, Scientific Romances and Fantastic Fictions by Brian J. Robb, foreword by James P. Blaylock
This book is ABSOLUTELY GORGEOUS. It's HARDCOVER with FULL COLOUR ILLUSTRATIONS, silky paper with a good weight to support the illustrations. The squeeing that went on in this house when it arrived! Then I learnt that the minion nearly bought it for me for my birthday – apparently Dymocks in the city had at least one copy in stock, well-hidden from the casual browser.
I love this book. Did I mention IT'S GORGEOUS?
This is not a review. Reviews will come later. [Shifty eyes]
Minion! I need a towel!
New South Books says:
"Simultaneously a literary movement, ultra-hip subculture and burgeoning cottage industry, Steampunk is the most influential and arresting new genre to emerge from the late twentieth century. Spinning tales populated with clockwork Leviathans, cannon-shots to the moon and coal-fired robots, it charts alternative histories in which the British Empire never fell or where the atom remained unsplit. This wide-ranging, beautifully-illustrated and much needed history explores the genre's many intricate expressions, tracing its development in fiction, cinema, television, comics, videogames and beyond."
Star Trek Federation: The First 150 Years by David A. Goodman
This book is a must-have for anyone with any more than a passing interest in Star Trek: it's another beautifully-bound hardcover edition with high-quality paper supporting full-colour images – artistic renderings – of characters, ships, wanted posters and more.
A combination of art and text convey many short stories on the development of the Federation. I'm not sure whether to describe this as a coffee-table book or an illustrated novel. It's both.
New South Books says:
"For the first time, an 'in universe' history of Star Trek, complete with excerpts from Starfleet records and intergalactic intelligence, including James T. Kirk's official biography and newly translated Klingon reports.
"From Humankind's First Contact with Vulcan in 2063 to the Romulan War in 2156, and beyond, this unprecedented illustrated volume is a must for all fans."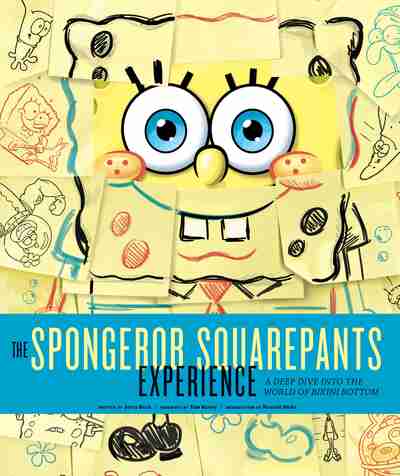 The SpongeBob Squarepants Experience: A Deep Dive into the World of Bikini Bottom by Jerry Beck
This book is clothed in a slipcover (pictured) with a more aquatic background and traditional SpongeBob attire featured on the hardcover underneath.
This coffee-table book will be fought over by the whole family. Or not. No-one tell Daniel, ok? [Shifty eyes]
New South Books says:
"This lavish coffee table book delivers an eye-opening behind-the-scenes look at the creation of SpongeBob and all the hard work and creativity that have gone into making him one of the most popular cartoon characters of all time. Featuring in-depth interviews with the cast and crew who bring Bikini Bottom to life, The SpongeBob SquarePants Experience will also include a treasure trove of SpongeBob concept artwork and other rare and revelatory visuals that will make it an absolute delight for fans."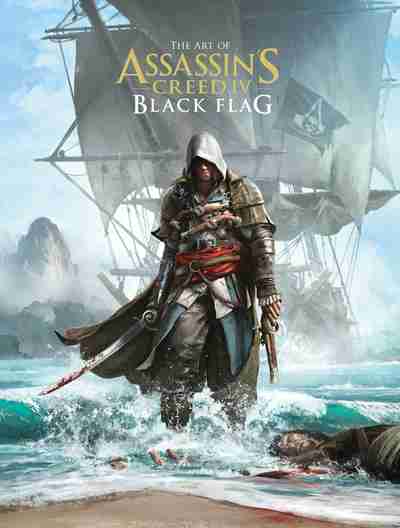 Art of Assassin's Creed IV: The Black Flag by Andy McVittie
This beautiful hardcover comes wrapped in plastic; it's so gorgeous I'm going to have to take a deep breath before I break the wrapper. Because I have to open it to comment on it.
[Deep breath]
Ookay. This is GORGEOUS.
(Surprise, surprise. The production value of all these books is SO HIGH.)
This art book has something for everyone vaguely interested in Assassins creed: blurbs about the game and how the artwork relates, landscapes worthy of hanging on the wall and detailed paintings of costumes every Assassins Creed cosplayer will NEED.
New South Books says:
"With 55 million units worldwide, Ubisoft®'s Assassin's Creed franchise is now established as one of the best-selling game series ever.
"The recently announced Assassin's Creed® IV Black Flag TM sees a sea change for the game franchise with a harsh new setting in the Golden Age of pirates.
"With intricately detailed environments and finely honed and evocative historical re-imaginings,The Art of Assassin's Creed® IV Black Flag TM includes the game's vast nautical gameplay, and its amazing range of locations, characters and action."
Now we're into paperback novels; even so, the cover for this (sorry no picture, it's not on their website) has a white background with 'aged' edges on the cover and an oval image of a man dressed in steampunk gear holding a skull. The cover is well-designed so the novel will stand out on any bookstore shelf, shrieking 'STEAMPUNK! OVER HERE!'
The text in the novel is dark brown; chapter headings in a striking font with decorative motifs, all evoke that steampunk feel.
New South Books says:
"Professor Langdon St Ives brilliant but eccentric scientist and explorer is at home in Aylesford with his family. Not far away a steam launch is taken by pirates, the crew murdered, and a grave is possibly robbed of the skull. The suspected grave robber, the infamous Dr Ignacio Narbondo, is an old nemesis of St Ives."
Joyland by Stephen King
New South Books says:
"Set in a small-town North Carolina amusement park in 1973, Joyland tells the story of the summer in which college student Devin Jones comes to work as a carny and confronts the legacy of a vicious murder, the fate of a dying child, and the ways both will change his life forever.
"I love crime, I love mysteries, and I love ghosts. That combo made Hard Case Crime the perfect venue for this book, which is one of my favorites. I also loved the paperbacks I grew up with as a kid, and for that reason, we're going to hold off on e-publishing this one for the time being. Joyland will be coming out in paperback, and folks who want to read it will have to buy the actual book." – Stephen King
Adam Robots: Short Stories by Adam Roberts
After admiring Adam Roberts's prose in By Light Alone, this antique-styled cover appeared on my doorstep.
Gollancz says:
"First UK publication for the short stories of an award-shortlisted and acclaimed author. One of the best writers of his generation. Gathered together for the first time from a major publisher are the short stories of Adam Roberts.
"Unique twisted visions from the edges and the centre of the SF genres. Stories that carry Adam Roberts' trademark elegance of style and restless enquiry of the genre he loves so much. Acclaimed stories, some that have appeared in magazines, some in anthologies, some appearing for the first time. Stories to make you think, to make you laugh, to make you wonder, to make you uneasy. Stories that ask questions, stories that sow mysteries. But always stories that entertain."
 The Republic of Thieves by Scott Lynch
This is the third and final installment of the internationally-renown trilogy that began with the Lies of Locke Lamora.
Gollancz says:
"He's back! The long-awaited return of the most exciting commercial fantasy writer of the 21st century.
"After their adventures on the high seas, Locke and Jean are brought back to earth with a thump. Jean is mourning the loss of his lover and Locke must live with the fallout of crossing the all-powerful magical assassins the Bonds Magi.
"It is a fall-out that will pit both men against Locke's own long lost love. Sabetha is Locke's childhood sweetheart, the love of Locke's life and now it is time for them to meet again. Employed on different sides of a vicious dispute between factions of the Bonds Sabetha has just one goal – to destroy Locke for ever.
"The Gentleman Bastard sequence has become a literary sensation in fantasy circles and now, with the third book, Scott Lynch is set to seal that success."
The Diamond Deep: Book Two of Ruby's Song by 
Brenda Cooper
This is the second and final installment of Ruby's Song, reviewed by Rebecca Muir.
Pyr says:
"What if a woman as strong and as complex as Eva Perón began her life as a robot repair assistant threatened by a powerful peacekeeping force that wants to take all she has from her?
"The discovery ship, Creative Fire, is on its way home from a multi-generational journey. But home is nothing like the crew expected. They have been gone for generations, and the system they return to is home to technologies and riches beyond their wildest dreams. But they are immediately oppressed and relegated to the lowest status imaginable, barely able to interact with the technologies and people of the star station where they dock, the Diamond Deep.
"Ruby Martin and her partner, Joel North, must find a way to learn what they need to know and to become more than they have ever been if they are to find a way to save their people."
 The Minor Adjustment Beauty Salon by Alexander McCall Smith
This one was requested by Evie; I've heard so much about his books and wanted to read them but TOO MANY BOOKS! NOT ENOUGH TIME! (Am jealous. She'd better get back from Sweden before temptation defeats prudence.)
Little, Brown says:
"The new Botswana book from the bestselling author, Alexander McCall Smith, this is Mma Ramotswe's fourteenth adventure.
"It is said that beauty runs skin deep, and as Mma Ramotswe and Mma Makutsi survey the havoc wreaked by Violet Sephotho in her attempts to drive her rival's Minor Adjustment Beauty Salon out of business, they are forced to conclude that beneath her groomed exterior lies a wicked person. More happily, Mma Makutsi and her husband Phuti Radiphuti are expecting a baby. However, conflict is brewing between their relatives who believe in the old ways and those who favour a more relaxed parenting style. And there is the controversial question of the child's name, too. Mma Ramotswe needs all her tact and intuition to restore harmony and see that right prevails."
The Tailor's Girl by Fiona McIntosh
Evie! EEEEEEVIE! Where are you? I have MOAR BOOKS for you…
Penguin says:
"From the bustling streets of 1920s London to the idyllic English countryside, this is a breathtaking story of passion and determination from a phenomenal Australian storyteller.
"When a humble soldier, known only as Jones, wakes in a military hospital he has no recollection of his past. Jones's few fleeting memories are horrifying moments from the battlefield of Ypres. His identity becomes a puzzle he must solve.
"The Eden Valentine arrives in his world, a stunning seamstress who dreams of her own high-fashion salon in London. Mourning the loss of her brother in the war, Eden cannot turn away the soldier in desperate need of her help.
"The key to Jones's past – and Eden's future – may lie with the mysterious Alex Wynter, aristocratic heir to the country manor Larksfell Hall. But the news that Alex bears will bring shattering consequences that threaten to tear their lives apart.
"The Tailor's Girl is a heart-stopping story of true love and courage in the most extraordinary circumstances from the rising star of Australian fiction."
Burnt Ice by Steve Wheeler
Not so long ago I received book 2 of this trilogy and now I have book one
HarperVoyager says:
"SUPERB SPACE ADVENTURE FROM A FRESH NEW VOICE.
"In our future worlds the Administration rules the Sphere of Humankind, the Games Board sanctions and funds wars and conflicts, and the Haulers′ Collective roams the space routes like the caravanners of old.
"Marko and his crew of fellow soldier-engineers are sent to investigate an unknown planet. When they encounter strange artefacts and an intelligent but aggressive squid species, they are forced to embark on a perilous journey far from the Sphere.
"They will have to survive not only other alien encounters but also their own Administration′s deadly manipulations.
"Political factions and galactic media moguls vie for power … and money."
23 Years On Fire: A Cassandra Kresnov Novel by Joel Shepherd
During the Continuum convention in June, Joel, the minion and I escaped the dungeon and headed to Wood'n'Chimney for dinner with intelligent, interesting conversation, even though we were all getting a bit tired by that time. I think the food helped revive us
Other authors at Continuum recommended Joel's work as an enjoyable read, so here I am – on the brink of summer holidays, about to plunge into another book with the hope of interviewing the author, probably after Joel has finished his marathon bike ride in the USA.
Pyr says:
"Cassandra Kresnov-a highly advanced hunter-killer android-returns to face down a rogue government's plot to eliminate free will.
"Commander Cassandra Kresnov has her hands full. She must lead an assault against the Federation world of Pyeongwha, where a terrible sociological phenomenon has unleashed hell against the civilian population. Then she faces the threat from a portion of League space known as New Torah, in which a ruthless regime of surviving corporations are building new synthetic soldiers but taking the technology in alarming directions.
"On the Torahn world of Pantala, Sandy encounters betrayal, crisis, and conspiracy on a scale previously unimaginable. Most challenging of all, she also meets three young street kids who stir emotions in her she didn't think she was capable of. Can the Federation's most lethal killer afford unexpected sentiment? What will be the cost if she is forced to choose between them and her mission, not only to her cause, but to her soul?"
And that's a wrap of the items received for now. I think I need to forgo sleeping and dangle a few book-shaped carrots in front of a few potential reviewers if Dark Matter is going to have any hope of catching up with reviews.