Marianne de Pierres science fiction fantasy and paranormal romance author talks to Nalini Haynes of Dark Matter
Marianne de Pierres came to Melbourne recently to participate in the Sisters in Crime writers' convention. While she was here, I had a somewhat interrupted interview with Marianne, which is why this interview is only available in text.
Hi Marianne, thanks for agreeing to talk to Dark Matter.
#becomingawriter
You started writing at a young age, what inspired you?
I did start writing young, but then I had a very, very long break. I started writing at 8 or 10, inspired purely by reading and thinking I wanted to write a story like that. Then I fiddled around for a few years up until I was in my late teens. Then I had a really long break of 10 or 15 years. I was studying but not doing creative writing; certainly not writing full blown stories. I really didn't start
writing properly until I was in my thirties.
What were you studying?
I started off doing social work. I got about three-quarters of the way through that and decided I didn't want to finish it, so I switched across and did a film and television degree. Then I started doing a bit of post-graduate literature units. Back in the days of free education.
Ah yes, before HECS fees.
Yes. Even when I was living away from the city I was doing a bit of external studies.
You were still in the story-telling medium to some extent.
I guess so. I never stopped reading even though I stopped trying to write for a while. But you also have to understand that I had little children as well. It wasn't until Jules (my youngest) was about 3 or 4, and I hit 34 that I started to think if I'm going to do this, I need to start. I still wrote with little children but not when they were babies.
That's a pretty demanding time, when they're babies. When you were reading, what were you reading?
I've been through so many phases over the years. I used to love historical fiction. I probably started off reading… I read a lot of 'Boy's Own' adventure stories when I was young; my dad had a huge collection. He also had Ian Fleming and Victor Appleton's Tom Swift and all the Zane Grey cowboy novels. Then I moved on to Literary Fiction and I was reading literary fiction way too precociously. I was reading D. H. Lawrence at a very young age and I don't think I understood it at all.
Maybe that's a good thing. [laughing]
Yeah. Then I moved on to some of the risqué trashy stuff like Arthur Haley. Then into historical fiction. After that, I discovered some of the more contemporary stuff like Carlos Castaneda and eventually, I found my way to science fiction and fantasy. I think I started with fantasy. I read all of David Eddings, Raymond Feist; all of that sort of thing. I read myself almost out of fantasy. At the tail end of that I shifted into science fiction and never looked back. Interspersed with that was always a bit of crime always, along the way. I've ridden these waves of types of books I guess.
So that helps explain where your writing is coming from.
I guess, yeah.
author/editor relationship
Your bio on your website mentions you started writing an Enid Blyton rip off when you were eight. Your sister made word substitutions all the way through. What was it like having such an autocratic editor at such a young age?
She wouldn't actually tell me what she was doing, she'd just type whatever sounded better to her. Then I'd read it back and I'd get really, really cross with her. She thought it was all a great joke.  But looking back on it, it was my first editorial experience.
How is your work edited these days?
Not on an old typewriter, that's for sure. With track changes. I've been really fortunate. My experiences with editors have been, by and large, incredibly positive. I've learnt something from every editor I've ever worked with. I've learnt a lot from some of them. I was talking about this the other day. Someone asked me how I cope with the editorial process, and I said I would not cope without the editorial process now. I would be frightened that I hadn't been through that rigorous process and know that it's going to produce something better. I would have to find that kind of feedback from somewhere.
How important is your relationship with your editor?
Extremely. It's business, especially with the big publishing houses. You don't try and bug them too much. But it's an exchange. I think if you're in a position as writer where you're working with an editor who is very autocratic, then that's not a good, healthy relationship and they're probably not a good editor. With good editors, it's a dialogue. There are some things that occasionally you stand firm on and don't want to change but generally they ask you questions. They say, 'Why is that like  that?' And that is what really brings the story together. It's them asking pertinent questions about what you've written. It's not really them directing to remove that, or add that, or shift that, it's making you think about your text with greater clarity. It's also really good when they point out pacing – a passage might be a bit slow. It's very hard to gauge those things yourself without that feedback.
I was just talking to Rowena Cory Daniells, and she was talking about possibly self-publishing some of her previously unpublished works. She said if she does that then she would source an editor from somewhere so she could still go through that process. Would you?
Yep. Same thing. I'm not planning on self-publishing any early work at this stage, but if I did, I would absolutely do that. Not only would I look for someone to do a structural edit, but I'd look for someone to do a copy edit as well.
Would they be two different people?
Possibly. It just depends on who was around. Just because you can put something up there (online), doesn't mean you should put up something that is inferior. It's doing you a disservice and a disservice to the reader.
journey into publication
You studied writing at uni but you didn't start writing science fiction until after your third son was 3 or 4. Did you study writing as an adult or did it take a while to come to this place?
I didn't ever really study writing. I did a couple of creative writing units at uni and I did some community courses in writing; they were fantastic. They gave me some of the practical nuts and bolts that I really needed to get going. Other courses were through open learning, TAFE and people's back room workshops. I didn't say, 'I'm going to be a writer, so now I'm going to go and do a writing course.' It was a process that evolved over time. I was picking up more and more as I went, then I began to more actively seek them out. After I had been writing for a few years and hadn't published a novel, I did enrol in a postgraduate course in the University of Queensland and I did the Arts: Writing, Editing and Publishing degree at UQ. That really helped me. It took my finished product to a new level. I learnt a lot more about polish, editing and presentation. So overall, it was a combination of seeking professional development, letting enough time pass, and becoming a more critical reader that got me going. Because you do have to be a critical reader, and that's really hard when you start out because you just want to read for enjoyment. Then it becomes hard to read for enjoyment because you're critically reading all the time, and you've got to remember to turn it off sometimes.
writers groups
I know a lot about reading with a critical emphasis at the moment, and I'd really like to switch that off more often. How did your involvement in writers' groups begin?
I was an isolated mother living on Stradbroke Island when I started writing seriously and I was desperate for contact with people in that world and I was seeking knowledge. Because the Queensland Writers' Centre was the only resource I knew of, I joined them, which was a great move. Rowena may have told you, I saw an advertisement in their newsletter saying anyone who wants to start a science fiction and fantasy writers'  group, come here at this time on this day. I made the big trek over, which was about a 2 ½ hour trek for me to get there. That was how my first writers' group involvement started, and that writers' group is still going now, 16 years later. That's the Vision Writers' Group. Rowena and I don't physically attend anymore, but they've migrated to an electronic list. We're still part of the list, which is great.
That was my first real foray into writers' groups and it evolved. What happens is, if you get a lot of people, you can only cover so much in a short amount of time. It got to the stage where I was seeking more. Rowena and I were talking about finding a situation for ourselves where we could get our novels critiqued. That's how we developed the RoR writers' group. It was trying to move forward all the time, keep plugging away at the next thing. We'd ask … what's the next professional development thing we can do for ourselves? wRiters on the Rise started off as wRiters on the Road but we found out there was a group already that was called  wRiters on the Road.
We tried to think of something else. The first thing we came up with was wRiters on the Riesling, as we were all on the riesling in those days. In the end we changed it to wRiters on the Rise, which I don't like as much. I prefer wRiters on the Road, but anyway…
It was Rowena and my attempt to further our professional development. We started out by brainstorming who might be interested in joining us. It was a fair commitment. At that stage it was planned to be once a year and you had to bring a novel. So we knew it had to be somebody who was actually writing novels for a start and finishing them. We looked for people who were about the same stage in their career as we were; which was emerging … basically. We started off approaching people. A few turned us down. A few said yes. Margo Lanagan came on board, Tansy Rayner Roberts, Maxine McArthur. I think that was our first ever workshop.
Gradually we grew until we're about eight now. We'll probably stay at about that number because otherwise we'd need 2 weeks to do all the critiquing. As it is, we can do eight people in four days comfortably and that's usually enough brain fry. So we get together once a year or every eighteen months. We all bring novels. We read the novels ahead of time, so you have to read seven other novels. Then we spend an intense four days workshopping, and it's hugely productive. They're all good, sharp, critical minds. They know their genre very well. You always come away tired but very highly motivated. Unfortunately over the last couple of years it's gotten harder to get together. We've had quite a high success rate. Most of us are published now. Other things intervene, like deadlines.
When we set the workshops some people might not be able to make it because life gets in the way of something like that. But essentially it's a very important part of our writing life.
How has that process been for you?
From the time we had the first workshop to the time we had the second workshop, I think my writing improved exponentially just from the feedback I got on the first weekend. Not only the feedback I got on my novel, but what I learnt from workshopping the other novels. I don't think I would have got that professional development at that speed without that experience.
Wow. Would you encourage other aspiring writers to start their own writers' groups?
Absolutely. We actually have inspired a few people. There's another group that meet out of Brisbane. There're also various groups I know of around the country that meet. It's a fair commitment for us because we're all from different states. It means an air fare and accommodation. It's a financial outlay as well. That might not work for everybody. If you have people close by and you can get away for a weekend in your own hometown, that would be just as great. I think for us this was necessary because we were writing genre. There weren't enough of us in one place so we had to cluster from all parts of Australia to get people who were writing that genre. I would highly recommend it. It doesn't have to be a group, it could be a critiquing partner. There is something about getting away from  your normal environment. You get that hothouse of critiquing  that really gets the creative juices going.
Is it ever difficult to hear the criticism?
Yes. I should qualify that. Some things. You might go into a workshop knowing your dialogue's a bit shaky or that character's a bit weak, so you're prepared that they're going to go for it. But other things might come up that you think are working really well and it can be hard to hear the things you think are going ok get criticised. We try and make ourselves productive but we also don't mince words either. It can be brutal but at the same time it manages to be inspiring. It's an interesting thing. And you're still going, so it obviously hasn't been destructive. No, oh no. Not in any way at all. The only thing that stops me, and I do miss the occasional workshop, is life intervening. And you get to read early drafts of manuscripts that later go on to become books, it's quite neat. You get a sense of ownership with those writers and their early work. That's pretty neat too.
Rowena made a comment about 'us', 'we', winning an award. As in 'we', your group.
Yes. Very much. When Margo won the World Fantasy award for Singing My Sister Down, from the collection Black Juice, we felt
like it was a part of us as well. We acknowledge we didn't write it, but we were there at the beginning and we workshopped that with her. And we said then that this was going to win a World Fantasy Award, which it did.
And you were right!
We were right. It's like anything you invest in. That's the whole point.
criticism
What makes the difference between criticism being brutal but constructive and destructive?
Obviously there are two things. How it's delivered in terms of you have to be able to back up what you are saying. If you can give good reason for why you think, 'Look, I'm sorry, but that chapter just doesn't work,' if you can deliver on why then it becomes a constructive exercise. Also if you can offer suggestions on what might make that better or how you can find a way around that or something, then it's only going to be a positive thing. It might smart at the time, but once you go away and think about it… Anybody who truly wants to be a writer and improve will go away, get over their huff and start thinking through what was said to them and then use it. Sometimes you might decide not to use it. You might acknowledge that it's right, but you want it to be that way. That's your choice.
I think destructive is when people are negative and aren't able to back it up with any decent reasons. You have to be careful in writers' groups; because it's so subjective in terms of what you like and don't like as a reader. You always have your favourites. We probably all have our favourites within the group. I like his or her work better than his. There are things you have to watch out for.
Yes, that's one of the challenges of reviewing a book.
Again, I don't review books that I hate. I try not to review a book I wouldn't read for pleasure. Otherwise you feel like you're being brutal or it's a lie. One of the two.
Yeah. That's one of the reasons I try to have a few different reviewers. Hopefully, with more reviewers, someone will like a particular author or sub-genre.
I'll get a book from a publisher and I might circulate it through three or four reviewers before one of them feels positive enough to write a review. If they all came back and said no, then we wouldn't review it. But two or three will say, 'Aaah, it's not really my book,' so it will go on to the next person until we find someone who wants to read it.
winning awards
You've been shortlisted for the Aurealis Award several times and the Ditmar Award once. Last year you won the Aurealis Award. Plus in 2009 you won Davitt Award for best crime novel. How do you think being short listed and winning has impacted upon your writing career? 
I really don't know. It's nice for your ego. In terms of impacting on my career, I couldn't say. I think perhaps it just means that more people get to hear your name in the industry. Both those awards are fairly new; they've both happened in the last few years. They may, in time, provide me with opportunities that wouldn't have come my way in the normal course of things, but it's a bit early to say. If I'd won an Academy Award I might be able to tell you straight away! I think it's really just exposure of your name.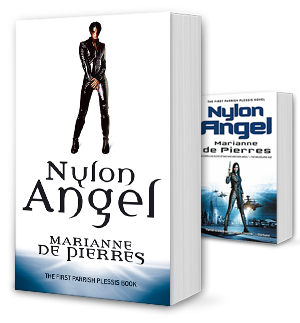 published novels
Without huge spoilers, what can you tell me about your different novel series? 
I've written two adult science fiction series. One is a traditional space opera, four book series, The Sentients of Orion. The Parrish
Plessis series is a kick-ass action-adventure, post-cyber-punk, post-apocalyptic story. The Tara Sharp crime novels I write under Marianne Delacourt are literally humorous crime in the mould of Janet Evanovich's Stephanie Plum. My teen fantasy series The Night Creatures series is dark fantasy with a subtle science fictional subtext.
I have a guilty confession to make. I've read Janet Evanovich.
I love Janet Evanovich, that's why I wrote them. Have you seen the trailer for the movie?
No, I haven't, but I will be watching the movie.
Oh, me too.
We'll see. I'm sure it'll be fun. As long as they've got a decent director.
I'm looking forward to it.
Why have you written so many different genres?
Probably as you said earlier, because I've read so many different genres. I don't feel bound or restricted. Because my reading tastes have been so eclectic over the years, I still have that primary desire from when I was eight years old, 'I read that, I liked it. Gee, I want to write something like it.' Essentially I'm just a fan of reading. So I get an idea and I'm off. I still enjoy it. I still read broadly, although not literary fiction these days. So I don't feel bound or restricted. I've been lucky in that publishers have given me the opportunity to publish in different genres. It can be hard to break the mould sometimes. Writing a novel is such an emotional investment. If you are not excited about it when you start it, you will never finish it. I go where the excitement leads. One year it might be a science fiction novel and one year it might be a crime story.
Do you think there's a unifying flavour that is Marianne de Pierres?
Probably stylistically. People say they can pick my writing. I guess you'd have to talk to them. I don't know. The humorous crime is quite light, whereas the science fiction, some of it, is very heavy. In terms of themes, a few recurrent themes crop up. One of them is women's empowerment – a big one for me. If you ask me, the one thing that I have in common across all my writing is that I'm not a predictable writer. You can generally never predict where my stories will go. Maybe less so with the Tara Sharp novels, but with everything else people generally can't work out where I'm taking them.
comic book
This diversity, does that explain Peacemaker?
Yep. That started as a novel, an urban fantasy novel that was marrying together my love of Westerns as a young kid and fantasy and science fiction. I guess it's three areas of reading passion. As I started writing it, I wrote about a hundred pages of the novel. I was too busy to write the novel, I had to put it away. But it started growing pictures. The pictures got more and more vivid in my mind. I get very, very excited about putting words and pictures together, which is why I really enjoyed writing for children. I didn't mention that – I did write for children when I started. I published a few children's stories.
What are the children's stories? I don't remember seeing anything about them.
There's nothing on the website anymore. I used to keep webpages of my children's stuff, but it was mainly in the children's education market. The sort of stuff you'd see in children's classrooms, early readers and things like that. I just didn't see any point in keeping a webpage of them because you can't buy them anymore. You'd only buy them through schools. But that was my first experience of pictures and words together. It was something I really wanted to revisit. With Peacemaker, I started writing the novel and I suddenly thought I really want to have a go at this. So I've gone in, very much with eyes open that I know nothing about what I'm doing. Fortunately I've got a really nice illustrator.
And experienced. She's won awards.
Yeah, and she drew, inked and coloured the first issue. That's a lot of work. They're all different skills, and I think she's done a fantastic job. I was lucky that she was able to do all of those things.
And that she had the time.
Well, she got paid :), but yeah. Brigitte's been great. I'll get back to you about the future of Peacemaker.  Issue two is already written. It's twice as long as issue one, which was really only a taster.
Since reading Peacemaker I read another preview comic, Orchid, that didn't introduce the main character.
Oh my god. How annoying.
Yes. So, comparing Peacemaker to Orchid … in Peacemaker, you introduce the male and female leads, there's obviously going to be conflict there.
And a dead body.
Yeah. And a villain already. And you've got all these dynamics set up.
Who's done Orchid?
Dark Horse. It's not an indy publication. The preview says basically the world's been polluted, seas have risen, genetic codes have been stuffed up so all these monsters have come out of the sea…
Is it an electronic version?
The preview was, but I think it's coming out in paper too. The preview is freely available, I'll send you the link.
That'd be great. That's interesting. Thanks for the feedback.  I really am flying blind here. Brigitte is able to give me some feedback because she's been in the comic book industry. If I was doing anything too glaringly bad, I'm sure she'd let me know. The reason I'm interested in taking this to a professional comic book publisher is that they'll be able to help me increase the professionalism of the product. I would take it to the next level.
How did the Peacemaker project start? 
Literally because I was writing the novel. I knew I wasn't going to have time to finish the novel, but I couldn't let the story go. In my mind it started turning into a comic instead. Instead of writing the novel, I embarked on the project of finding an illustrator who could work with me on it. That was quite a slow process. I was very lucky. Nicola Scott, who I would have loved to have worked with on it, but has an exclusive contract with DC Comics, recommended Brigitte Sutherland. I approached Brigitte and another girl from Western Australia whose art I really liked. They sent some stuff to me and in the end I decided that Brigitte had the realistic feel that I was looking for, even though the other girl's work was great, it was more comic. Brigitte had more undertones of realism. So we took it from there. It took a while to get to the point where, yes, Brigitte was going to be the illustrator. Once we did, we moved along pretty quickly and got the first issue done fairly soon. But Brigitte is based in the UK even though she's Australian. The time difference can be a real pain when you're trying to do something quickly.
I suppose it's made workable by the internet.
It is. It'd be very hard without it. But with the internet, just as I'm going to bed she's getting up. Nowadays though, I've reached the point in my career where, if I want to do something creatively and I can 1) afford it and 2) have the time to do it, I'm going to do it. I'm not going to let the fact that I have no experience stop me.
Good on you. I think Kelley Armstrong was a bit similar. She wrote her graphic novel Becoming; it was a fan service. Fans were asking for this particular part of Elena's story from the adult series. She decided it had too much angst to be a novel, but it could become a comic. Someone wanted to illustrate it for her, so that's how it happened.
They're the kind of projects that give you the most pleasure.  Straight from the heart.
How different is writing for comics from writing for novels?
It's so lean. But that doesn't worry me, I tend to write fairly lean anyway, so it's not a big stretch for me to make that step. Nicola said to me that a mistake beginner writers make in comics is that they don't let the pictures tell the story. They try to narrate it. So I try to keep that in mind. The illustration should tell as much of the story as possible, and what it can't tell is the bit you write. So that's the biggest difference.
How difficult is that for you when you're writing it and then getting someone else to illustrate it?
Because you're picturing it in your own mind and then you give them the bare instructions… I imagine once you've worked with an illustrator for a while, you can say, 'Bright sunny day in the park,' and know that they're going to produce exactly what you want. Because you talk… well, we go through character drafts beforehand, what the characters are going to look like. In Peacemaker there is this natural park in the middle of the city, so I sent Brigitte links of pictures of the Pilbara, saying this is the colour of the soil I want. You are constantly referencing back and forth and you build up a sympatico picture.
In terms of character, one of the concerns raised at the Tights and Tiaras conference at Monash University was how the depiction of women in comics is very sexualised. Their figures are unrealistic. Their clothing is, shall we say, less substantial than the males. One of the things I really noticed with Peacemaker is that both the male and female characters were fairly realistic for fit and healthy adults. They were both wearing fairly comparable standard of clothing, neither of them was particularly sexualised. Was this planned?
Yeah. I didn't want to write superheroes, and I certainly did not want to write about women in bikinis. That was a very conscious decision. I'm telling a story about certain types of characters and that's how they look. While keeping in mind that I want it to be fairly appealing to the eye, there's that tinge of realism I want brought to it. I don't want a stylised superhero. Very conscious. I'm writing for me, and after that I'm writing for people in general. I would hope that the characters are appealing visually to anyone. The sexiest characters are usually the ones with their clothes on.
Yes. I like the kind of Geisha definition of being appealing, it's what is concealed not what is exposed.
Exactly.
Do you think being a female team working on Peacemaker in a male dominated industry impacts on Peacemaker in any way?
I think the biggest impact comes from being an unknown in the comic book industry rather than being a female team. I haven't even reached the level of whether that would impact. I'm still at the level of nobody's heard of me and I have no runs on the board. So check back in a few years and I might be able to answer that question better. [laughter]
roleplaying game
I'll be there when you're launching your comic book! Your Parrish Plessis series has been turned into a role playing game. What is that like?
It was a really interesting experience. I didn't know a lot about RPGs and it's an D20 dice game (D20 = 20 sided dice). I don't know anything about them, so other than support the game people where I could, it was all taken out of my hands. I read through some of the handbook and made sure certain things were correct, but in terms of the game mechanics, that was nothing to do with me. It's been a great recommendation for the series. It's given it another life. It's like having a book made into a movie. The game is a separate text, which is nothing but good as far as I'm concerned.
YA books
Burn Bright and Angel Arias are both young adult novels We were talking before the interview about there being so much energy around young adult novels. What has that been like?
Great, great. As we were saying earlier, the book blogging community in YA is just so passionate. It's very, very rejuvenating
and exciting to be in a reading community where they just love books and want to share that love of books. I think as we grow into adults and we get busy, we're less inclined to get excited about these things, but there's this whole substructure of young
people out there who are celebrating their love of writing. I've found that fantastic, I've loved that. And I really enjoy writing
YA. I will continue writing young adult.
SheKilda
You're about to attend SheKilda, a crime writing convention. What do you expect to get out of this weekend?
I'm looking forward to seeing a bunch of friends, and I'm looking forward to making some. Even coming in the car, getting picked up at the airport, I met a lady who is writing for television and researching some interesting cases. Vicki Petritis picked us up, she writes true crime novels. The conversation in the car was all gruesome and grizzly and fascinating. A great taster for the weekend.  The conventions are about meeting people. I'm really looking forward to some of the panels. The Sisters in Crime are a great bunch. Pro-active, well organised and welcoming.
works in progress
What are you currently working on?
I'm working on a crime novel, Tara Sharp 3. As soon as I put that to bed at the end of this month I will be writing the third in the
teen trilogy.
So you haven't finished the sequel to Angel Arias yet?
Burn Bright is the first one. Angel Arias is the second one. So I haven't finished the third one yet, no.
Ooooo. So what are your plans for the future apart from writing those two novels?
I have another Tara Sharp novel to write after I've finished the teen trilogy. Then I'm going to have a little sit and think about what direction I'm going to take. But definitely my comic will be one of those things. I have a screen play I'm still working on. We'll see what life brings in twelve months' time.
With the screen play, do you have a contract?
It's optioned by a local Australian independent producer. It's a stand-alone science fiction, so it's an original idea, it's not based on a novel. I've been having trouble finding time to finish it. It's half written, so that's very high on my list of things to do. In about October next year I'll be doing a whole lot of things I've had on the back burner. We'll see. I might even have a little holiday.
You might need one, or you might get burnt out. Thank you very much for talking to Dark Matter.
It's been a pleasure, thank you very much Dark Matter for having me.
You're very welcome!
For more information, see Marianne's website, Burn Bright's website and Tara Sharp's website.