Podcast: Play in new window | Download
Subscribe: RSS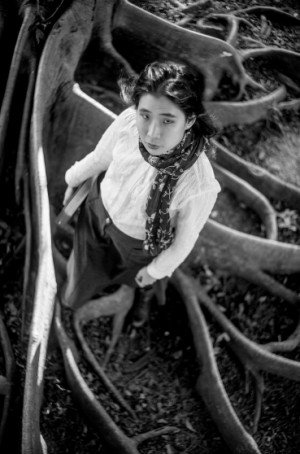 Jeannette Ng's book Under the Pendulum Sun is about "[t]wo Victorian missionaries [who] head into darkest fairyland, to deliver their message to the godless magical beings who dwell there… at the risk of losing their own souls." This quote is from Angry Robot, which also has this recommendation:
"An evocative, claustrophobic Gothic novel with strikingly creepy set-pieces, which repeatedly dislocates its reader's and characters' worldview in a forceful examination of faith and the power of stories."
– Aliette de Bodard, Nebula, Locus and BSFA Award-winning author of The House of Shattered Wings
Jeannette Ng is originally from Hong Kong but now lives in Durham, UK. Her MA in Medieval and Renaissance Studies fed into an interest in medieval and missionary theology, which in turn spawned her love for writing gothic fantasy with a theological twist. She runs live roleplay games and is active within the costuming community, running a popular blog. Jeannette has been a finalist for the John W. Campbell Award for Best New Writer and the Sydney J Bounds Award (Best Newcomer) in the British Fantasy Awards 2018. Her book was included in Adam Roberts' list of "The best science fiction and fantasy of 2017" in The Guardian. (Intro shamelessly stolen from Angry Robot and Wikipedia.)
I find Jeannette's inclusion in Adam Robert's list unsurprising since Adam Roberts is a professor of 19th century literature and Ng is heavily influenced by the Bronte sisters, Wuthering Heights in particular.
The video is below the text while the podcast is at the top of this post.
Jeannette recommends lots of books, all the shiny books, but mentioned these in particular:
A thousand beginnings and endings by Ellen Oh.
The Mere Wife: a modern feminist retelling of Beowulf by Maria Dahvana Headley.
Percy Jackson by Rick Riordan who invited other authors to share their mythologies.
Cinderella's Sisters by Dorothy Ko; a revisionist history of footbinding.
You can find Jeannette