Items received: Edgar poses, Smokey whines
Edgar posed triumphantly atop the items received while Smokey was oblivious; once Smokey realised her starring role had been usurped, she wandered around the living room yowling and whining. Not a good sound.
The list.
Doctor Who and the Ice Warriors
To be released on 28 August, I've already watched and reviewed the main feature; my review will be published on the launch date at 8am. Howzat for being organised?!
I'm in the process of watching the extras.
This is a classic story in black & white. The video footage for two of the episodes was lost so they've animated them with the original unedited soundtrack. This was my first viewing of this story.
'Nuff said. wait for the review.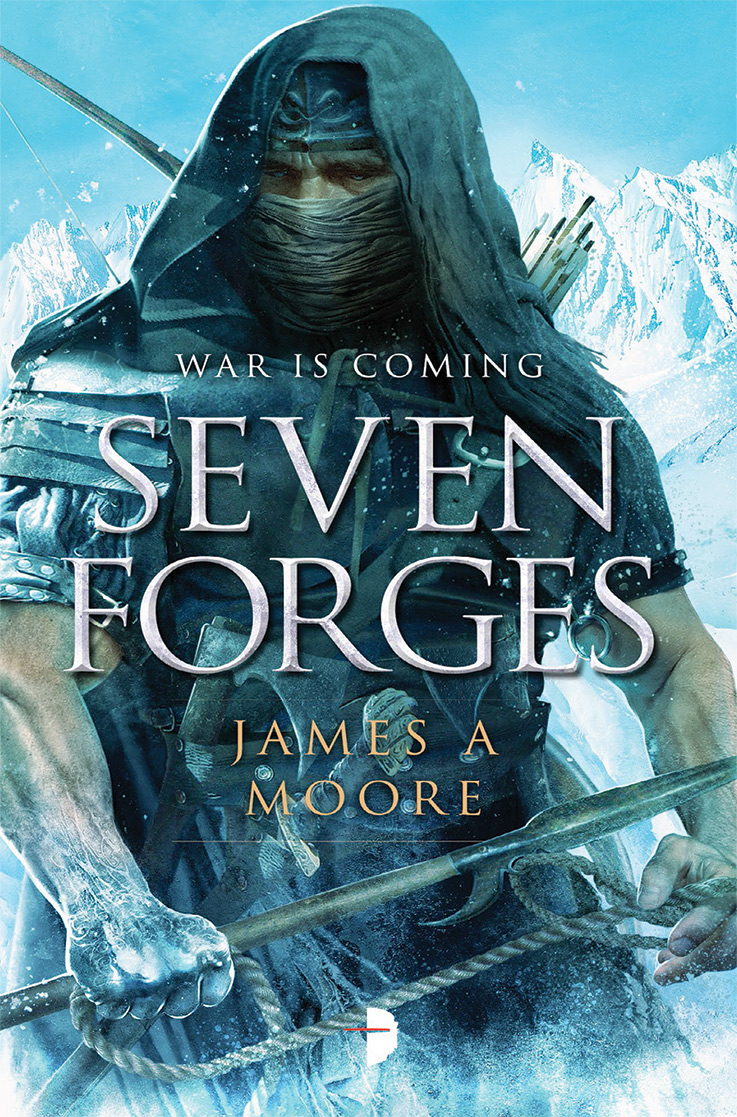 Seven Forges by James A. Moore
This is a high fantasy with gods and snow and ice. Angry Robot says:
'The people of Fellein have lived with legends for many centuries. To their far north, the Blasted Lands, a legacy of an ancient time of cataclysm, are vast, desolate and impassable, but that doesn't stop the occasional expedition into their fringes in search of any trace of the ancients who once lived there… and oft-rumoured riches.
Captain Merros Dulver is the first in many lifetimes to find a path beyond the great mountains known as the Seven Forges and encounter, at last, the half‐forgotten race who live there. And it would appear that they were expecting him.
As he returns home, bringing an entourage of the strangers with him, he starts to wonder whether his discovery has been such a good thing. For the gods of this lost race are the gods of war, and their memories of that far-off cataclysm have not faded.'
Total War Rome: Destroy Carthage by David Gibbins
This looks like a total 'guy' book, based on a best-selling computer game. Luckily I like guy books, lol.
Pan Macmillan says:
'Carthage, 146 BC. This is the story of Fabius Petronius Secundus – Roman legionary and centurion – and his rise to power: from his first battle against the Macedonians, that seals the fate of Alexander the Great's Empire, to total war in North Africa and the Seige of Carthage.
Fabius' success brings him admiration and respect, but also attracts greed and jealousy – the closest allies can become the bitterest of enemies. And then there is Julia, of the Caesar family – a dark horse in love with both Fabius and his rival Paullus – who causes a vicious feud. Ultimately for Fabius, it will come down to one question: how much is he prepared to sacrifice for his vision of Rome?
Based on Total War: Rome II, the bestselling game, Destroy Carthage is the first in an epic series of novels. It is not only the tale of one man's fate, but is also a journey to the core of Roman times, through the world of extraordinary military tactics and political intrigue that Rome's warriors and citizens used to cheat death.'
Witch Wraith by Terry Brooks
Book three of the Dark Legacy of Shannara, Terry Brooks continues his long-running epic fantasy series. Orbit says:
'The third title in a new Shannara fantasy series from the author who began the modern fantasy phenomenon.
For centuries the Four Lands enjoyed freedom from its demon-haunted past, protected by magic-enhanced borders from the dark dimension known as the Forbidding and the profound evil imprisoned there. But now the unthinkable is happening: The ancient wards securing the barrier between order and mayhem have begun to erode – and generations of bloodthirsty, monstrous creatures, fueled by a rage thousands of years in the making, are poised to spill forth, seeking revenge for what was done to them.
Young Elf Arling Elessedil possesses the enchanted means to close the breach and once more seal the denizens of the Forbidding in their prison. But when she falls into the hands of the powerful Federation s diabolical Prime Minister, her efforts may be doomed. Only her determined sister, Aphen, who bears the Elfstones and commands their magic, has any hope of saving Arling from the hideous fate her captor has in store.
Meanwhile, Railing Ohmsford – desperate to save his imprisoned brother – seeks to discover if his famed but ill-fated ancestor Grianne is still alive and willing to help him save the world. . . no matter the odds or the consequences.'
Awaken by Meg Cabot
I read the Princess Diaries novel by Meg several years ago and loved it, it was far better – and more subversive – than the movie. Since then I've read a couple of Meg's other novels but nothing recent. I've thoroughly enjoyed Meg's sense of humour, her light-hearted take on a story that can have greater depth. When I noticed Meg's novel on Pan Macmillan's website, no matter how snowed under I am, I thought I must read this book! Meg's books have always been a break, a pleasant escape for me, a bit like a yummy dessert. Hopefully this hasn't changed.
Pan Macmillan says:
'The third book in the dark and dangerously seductive trilogy from bestselling teen author Meg Cabot.'
[Argh! I haven't read books 1 & 2 ]
Macmillan continues: 'Seventeen-year-old Pierce Oliviera knew by accepting the undying love of John Hayden she'd be forced to live forever in the one place she's always dreaded most: the Underworld. The sacrifice seemed worth it, to be with the boy she loves. But now her happiness and safety in the realm is threatened, all because the Furies have discovered that John has broken one of their strictest rules: He revived a human soul. If the balance of life and death isn't restored, both the Underworld and Pierce's home back on earth will be wiped away by the Furies' wrath. Pierce is willing to volunteer her own life, but John won't hear of it. Pierce has already cheated death once… can she do it again?'
Jamie Reign: The Last Spirit Warrior by P. J. Tierney
Braiden Asciak recommended The Last Spirit Warrior when I asked the Hive Mind for contemporary Australian fantasy influenced by Asian mythology, an assignment I'm doing for uni.
Yes, I'm getting the twitterz to do my homework for me. I'm a bad girl. Pity I can't get the twitterz to write my 2000 word essay in 140 character bites
The cover of this novel is unusual and to be commended: notice the three characters, two boys and a girl, and only one character who is white. DIVERSITY WIN. I'd read it on the basis of the cover alone.
HarperCollins says:
'Jamie Reign was born twelve years ago, on the first day of the Chinese Year of the Dragon. This supposedly auspicious start in life hasn′t been much use to him, living a loveless existence with his abusive father, Hector, on a salvage boat. Jamie′s mother Mayling died on the day he was born.
When Jamie inadvertently summons some fiery orbs from the air to tackle some local bullies, he doesn′t understand that he has tapped into The Way, the universal energy source, and in doing so he sets off a chain of events with unforeseen consequences.
Whisked away by the mysterious Mr Fan to the Chia Wu, a school for students with special abilities, Jamie is taken under the wing of the legendary Kung Fu Master Wu. It is believed by Master Wu and his staff that Jamie is the Last Spirit Warrior, and as such his life′s purpose is to right the dreadful wrongs (climatic and political) taking place in the world. But not everyone believes so – and Jamie himself has doubts. What use is a Spirit Warrior who is hopeless at Kung Fu?
Ages: 9-12
"… intriguing and ingenious … Jamie Reign keeps the plot bubbling and the pages turning."- John Flanagan, author of The Ranger′s Apprentice.'
Broken Homes by Ben Aaronovitch
Broken Homes is the fourth Peter Grant novel; imagine Harry Potter grew up ignorant of the wizarding world, became a less-than-competent police officer then discovered magic only to be seconded to a special Ministry of Magic police department consisting of two people. Add archetypes and myths, geek and pop culture references plus comedy. You might almost think I've been enjoying this series.
Gollancz says:
'From the author of Rivers of London – the SUNDAY TIMES bestselling PC Peter Grant series returns with something dark south of the river. . .
Ben Aaronovitch has stormed the bestseller list with his superb London crime series. A unique blend of police procedural, loving detail about the greatest character of all, London, and a dash of the supernatural.
In the new novel PC Peter Grant must head south of the river to the alien environs of Elephant and Castle. There's a murderer abroad and, as always when Grant's department are reluctantly called in by CID, there is more than a whiff of the supernatural in the darkness.
Full of warmth, sly humour and a rich cornucopia of things you never knew about London, Aaronovitch's series has swiftly added Grant's magical London to Rebus' Edinburgh and Morse's Oxford as a destination of choice for those who love their crime with something a little extra.'
 Kiss me first by Lottie Moggach
In one of those strange quirks of life, I won a copy of this novel after I'd reviewed it. I emailed back saying thanks very much and they could choose another winner or if they sent it to me I'd run a competition. So, competition it is!
Kiss me first is chilling and compelling and very difficult to review. I wrote and revised my review a few times over the course of a week and still wasn't happy with my review but I posted it anyway; it's here.
Pan Macmillan says:
'He didn't mention her name. He just said that a woman had come to him, desperate to kill herself, but not wanting her family and friends to know. And had the idea to employ someone to pretend to be her online, so that no one would be able to tell she was not still alive.
What if the friend you were writing to, confiding in or falling in love with wasn't who you thought they were at all? What if the person replying in their name was someone you had never met, and would never even notice if you passed them in the street?
And what if you had no way of knowing until it was too late…?'
All our yesterdays by Cristin Terrill
The title of this novel, a quote from Macbeth by Shakespeare, is enough to get my attention. When Macbeth, king killer and overly ambitious paranoid wannabe, is told of his wife's suicide, he says:
'She should have died hereafter;
There would have been a time for such a word.
To-morrow, and to-morrow, and to-morrow,
Creeps in this petty pace from day to day
To the last syllable of recorded time,
And all our yesterdays have lighted fools
The way to dusty death. Out, out, brief candle!
Life's but a walking shadow, a poor player
That struts and frets his hour upon the stage
And then is heard no more: it is a tale
Told by an idiot, full of sound and fury,
Signifying nothing.'
Of this novel, Bloomsbury says:
'A brilliantly brain-warping thriller and a love story that leaps back and forth in time – All Our Yesterdays is an amazing first novel, perfect for fans of The Hunger Games.
Em is locked in a bare, cold cell with no comforts. Finn is in the cell next door. The Doctor is keeping them there until they tell him what he wants to know. Trouble is, what he wants to know hasn't happened yet.
Em and Finn have a shared past, but no future unless they can find a way out. The present is torture – being kept apart, overhearing each other's anguish as the Doctor relentlessly seeks answers. There's no way back from here, to what they used to be, the world they used to know. Then Em finds a note in her cell which changes everything. It's from her future self and contains some simple but very clear instructions. Em must travel back in time to avert a tragedy that's about to unfold. Worse, she has to pursue and kill the boy she loves to change the future . . .'
The Last Banquet by Jonathan Grimwood (aka Jon Courtney Grimwood)
To be released on 1 August 2013.
I've been enjoying Jon Courtenay Grimwood's Assassini trilogy. Obviously if he's writing under a different name the style will be different but I'm hoping for the same quality of prose, plotting, research and general flavour. The cover is intriguing.
Allen & Unwin says:
'Jean-Marie Charles d'Aumout is many things. Orphan, soldier, diplomat, spy, lover. And chef. This is his story.
We meet Jean-Marie d'Aumout as a penniless orphan eating beetles by the side of the road. His fate is changed after an unlikely encounter finds him patronage and he is sent to military academy. Despite his frugal roots, and thanks to wit and courage in great measure, he grows up to become a diplomat and spy.
Rising through the ranks of eighteenth-century French society, he feasts with lords, ladies and eventually kings, at the Palace of Versailles itself.
Passion, political intrigue and international adventure abound in Jean Marie's life, yet his drive stems from a single obsession: the pursuit of the perfect taste. Three-Snake Bouillabaisse, Pickled Wolf's Heart and Flamingo Tongue are just some of the delicacies he devours on his journey towards the ultimate feast.
But beyond the palace walls, revolution is in the air and the country is clamouring with hunger of a different kind.'
If I recall correctly, I think I heard some mention of The Last Banquet somewhere like the SF Squeecast although having a quick squiz at their recent casts I can't see it listed. It might have been an incidental reference.
In Thunder Forged by Ari Marmell
Steampunk! Based on an award-winning game no less. Well, the Dragonlance series has been a long-running success, and this series starts with Ari Marmell, a recognised author, so they're ticking all the right boxes.
Ari wrote The Conqueror's Shadow, which received good reviews including this one.
Pyr says:
'The first novels based upon the award-winning WARMACHINE® steam-powered fantasy wargame and the world of the Iron Kingdoms™ Role Playing Game! Action-packed steam-tech fantasy novels that combine elements of epic wartime adventure with thrilling cloak-and-dagger espionage
The Iron Kingdoms are at war—a war fought with machine guns and magic, knights of valor, and earth-shaking titans of steam and steel. And now that war may hinge entirely on nothing more than a sheaf of papers.
An alchemical formula, stolen by an ally they thought they could trust, could cost the brave soldiers of Cygnar everything. Their only hope: a cunning spy, a knight out of her element, and a frighteningly small unit of the best that Cygnar has to offer.
Arrayed against them is not only a single, devious enemy, but the combined intelligence apparatus—and possibly the full military might—of the most brutal martial power Cygnar has ever known.'
Well, that's the roundup of items received recently. I'm now going to watch an episode of something hubby has put in the player before falling comatose into bed. Night all.