[giggles]
Edgar: Did you see that?
Pikachu: LOOK AT HER RUN!
Edgar: RUN, SMOKEY, RUN!
[Edgar falls off his perch, the slender anthology Dangerous Women, as only a really clumsy cat can.]
Edgar: Oops. [snort, chortle, ROLLS ON FLOOR LAUGHING]
Pikachu: [wipes eyes] Oooooh, oooooh, ooooh, so funny… I love how she just got started, knocked over ONE BOOK, she was getting ready to upstage us and then – and then –
[Pikachu, doubled over laughing, likewise falls from his precarious perch on the slender volume that is Tom Clancy's Command Authority.]
Edgar: AND THEN THE LAWN MOWER STARTED.
Edgar & Pikachu in unison: ZOOM! 
Edgar & Pikachu roll helplessly on the Doctor Who blurays, shrieking with laughter.
While Edgar & Pikachu laugh at the poor stressed kitty, let's look at the items received.
Heartwood by Freya Robertson
Kiwi authors seem to write the best fantasy; first there was Helen Lowe then David Hair and now Freya Robertson. I have high hopes for this one!
Angry Robot says:
Chonrad, Lord of Barle, comes to the fortified temple of Heartwood for the Congressus peace talks, which Heartwood's holy knights have called in an attempt to stave off war in Anguis. But the Arbor, Heartwood's holy tree, is failing, and because the land and its people are one, it is imperative the nations try to make peace.
After the Veriditas, or annual Greening Ceremony, the Congressus takes place. The talks do not go well and tempers are rising when an army of warriors emerges from the river. After a fierce battle, the Heartwood knights discover that the water warriors have stolen the Arbor's heart. For the first time in history, its leaves begin to fall…
The knights divide into seven groups and begin an epic quest to retrieve the Arbor, and save the land.
Assassin's Creed: The Ankh of Isis trilogy
This sexy number is in hardcover with the interior story told in full-colour illustrations on good-quality paper. Not that I like hardcovers, full-colour OR good quality paper, you understand.
New South Books says:
This first ever collection of the three-volume graphic novel from Ubisoft collects together the exhilarating story of Desmond Miles' abduction by Abstergo. His subsequent flight from their grasp leads to Desmond joining the Assassins in their fight against the Templars. Betrayal leads to Desmond "recovering" the memories of his ancestor, Aquilus as he searches for the power of the mystical Ankh and savage Barbarian tribes, led by the deadly Assassin Accipiter, prepare to attack.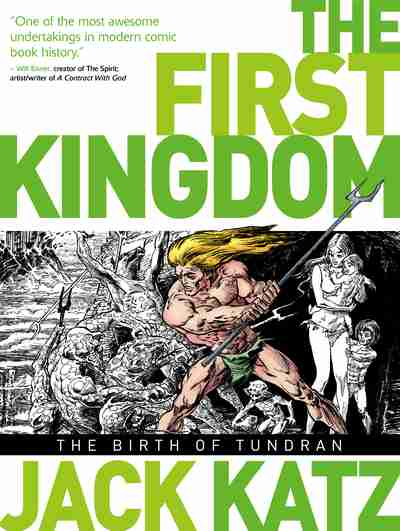 The First Kingdom, Vol 1 – The Birth of Tundran by Jack Katz
Again with the hardcover. I <3 these books. This one is printed mostly in black and white in what I believe to be a fairly traditional inked style (real B&W, not greyscale). There's a foreword and an interview with Jack Katz. This volume is considerably thicker – with a much more lengthy story – than the others received in this bundle.
New South Books says:
A title that is first in a series of Homeric, post-apocalyptic graphic novels, following the vein of a futuristic, post-civilization The Odyssey or The Iliad.
My curiousity is piqued.
 Dangerous Women By G Dozios, George R R Martin
HarperCollins says
The collection will also feature a new and unpublished 100pp novella by George R.R. Martin set in the world of A Song of Ice and Fire – now the award-winning HBO show, Game of Thrones.
The novella, entitled 'The Princess and the Queen', will reveal the origins of the Targaryen Civil War, otherwise known as 'The Dance of the Dragons', a war that split a then-fledgling Westeros in two, pitting Targaryen against Targaryen and dragon against dragon.
The Dangerous Women anthology also contains contributions from the following worldwide bestselling authors:
"Some Desperado" by Joe Abercrombie – A Red Country story

"Nora's Song" by Cecelia Holland

"Bombshells" by Jim Butcher – A Harry Dresden story

"Wrestling Jesus" by Joe R. Lansdale

"Neighbours" by Megan Lindholm (who also writes as Robin Hobb)

"Shadows For Silence in the Forests of Hell" by Brandon Sanderson

"A Queen in Exile" by Sharon Kay Penman

"The Girl in the Mirror" by Lev Grossman – A Magicians story

"Virgins" by Diana Gabaldon – An Outlander story
OMG – need I say more?!
Command Authority by Tom Clancy
It's been a long time since I read a Tom Clancy novel but they've always been action-packed thrillers with a lot of tech savvy. I'm pretty sure TC was one of those authors rumoured to have been visited back in the day for being too spot on with CIA knowledge. It's a pity they haven't made more of them into movies with Harrison Ford as Ryan. [sigh]
Penguin says:
Number one bestselling author and master of the modern thriller, Tom Clancy delivers an electrifying story of intrigue, power and one family with two generations of heroes.
Decades ago, when he was a young CIA analyst, President Jack Ryan, Sr. was sent on what was supposed to be a simple support mission to investigate the death of an operative who had been looking into suspicious banking activities at a Swiss bank. Ryan's dogged tenacity uncovered not only financial deceit, but also the existence of a KGB assassin, code-named Zenith. He was never able to find the killer.
But in the shadow world of covert operations, nothing stays hidden for ever.
In the present, a new strongman has emerged in the ever-chaotic Russian republic – the enigmatic President Valeri Volodin. His rise to power was meteoric, but shrouded in deception and treachery. The foundations of his personal empire are built on a bloody secret from his past, and he will eliminate anyone who comes close to that truth. For he has set in motion a plot to return Russia to its former glory and might, with the rest of the world once again trembling in fear of the mighty bear.
When an old friend of the Ryans is poisoned by a radioactive agent, the trail leads to Russia. And Jack Ryan Jr. – aided by his compatriots John Clark and the covert warriors of the secretive Campus – must delve into an international conflict thirty years in the making, and finish what his father started.
With President Ryan fighting a desperate campaign to thwart Russian aggression, and his son fighting a silent war against a ruthless foe, the chances for global conflict grow ever greater – and the possibility of survival may soon be lost for all . . . 
Monkey Business by Kathryn Ledson
I've thoroughly enjoyed Stephanie Plum although any series can run for too long [shifty eyes]. I'm pleased to see a fresh writer with a new heroine on the scene. Some light holiday reading, perhaps!
(I can shuffle the TBR pile here and here… Wait, she's AUSTRALIAN. Shuffles some more…)
Penguin says:
Erica Jewell reckons being a part-time vigilante is stressful enough, without the added pressures of a demanding day job, annoying family and bossy cat. Now her mysterious lover has vanished on some clandestine mission, without leaving a forwarding address. Erica thinks that's pretty typical of hired gun Jack Jones – he'd rather risk his life than his heart.
Then Erica discovers with a shock that Jack is M.I.A. on the jungle-infested island of Saint Sebastian. When no one seems willing to help find Jack or even acknowledge his existence, Erica knows she's his only chance. But negotiating her way around lawless and sweltering Sebastian, where monkey business abounds, proves far more dangerous than she expected.
 
Fast-paced, funny and totally engaging, Monkey Business blends adventure and romance in an irresistible summer read.
Praise for Kathry Ledson's Rough Diamond
'Funny and thrilling' Cleo
'Ledson captivates with characters that are memorable and real and refreshingly Australian. Reading her novel is akin to chatting to a very likeable friend.' West Australian
'Delightfully funny, light-hearted and fast-paced … Move over Stephanie Plum – Erica Jewell is in the house!' Book Muster Down Under
The Fiery Heart: Bloodlines Book 4 by RICHELLE MEAD
Liz Manthos has been DYING to review this book. There was much SQUEEING when she heard it arrived.
Penguin says:
In The Indigo Spell, Sydney was torn between the Alchemist way of life and what her heart and gut were telling her to do. And in one breathtaking moment that Richelle Mead fans will never forget, she made a decision that shocked even her . . .
But the struggle isn't over for Sydney. As she navigates the aftermath of her life-changing decision, she still finds herself pulled in too many directions at once. Her sister Zoe has arrived and while Sydney longs to grow closer to her, there's still so much she must keep secret. Working with Marcus has changed the way she views the Alchemists, and Sydney must tread a careful path as she harnesses her profound magical ability to undermine the way of life she was raised to defend.  Consumed by passion and vegeance, Sydney struggles to keep her secret ife under wraps as the threat of exposure – and re-education – looms larger than ever.
Pulses will race throughout this smoldering fourth installment in the bestselling Bloodlines series, where no secret is safe. 
Reviews for the Bloodlines series
'The Bloodlines series is filled with jaw-dropping action, humor and heart stopping romance, and this is the greatest installment yet!' Romantic Times
'The fourth book in the Bloodlines series doesn't hesitate to turn up the heat in more ways than one . . . Epic. ' 1 Girl . . . 2 Many Books
'We're suckers for it.' Entertainment Weekly
'Stands out from the crowded vampire genre.' Associated Press
'An obvious pick for the literary lover of all things bloodsucking.' MTV's Hollywood Crush
 Wild Justice by Kelley Armstrong
I've enjoyed every book of Kelley's I've read, regardless of whether they've been aimed at YA or adults. This looks exciting, it's just a pity I've missed books 1 & 2 in the trilogy.
Sphere says:
Wild Justice: the dramatic finale to the Nadia Stafford trilogy.
Ex-cop Nadia Stafford has a dark secret. After taking the law into her own hands she was kicked off the force. . . and entered the shadowy world of guns for hire. She has her own strict code – works only for one crime family, only kills the really bad guys. But when a hit goes tragically wrong, Nadia is devastated. Is it time to leave the business for good?
Before she has time to decide, Nadia discovers that her own life is under threat. And worse – that terrifying events from her past may have triggered the attacks. With the help of Jack, her enigmatic mentor, Nadia is forced to upon a dark path – towards the truth and towards her final destiny.
Doctor Who: The Day of the Doctor
The long-awaited 50th anniversary special, the Day of the Doctor caused much controversy. (And this was a surprise?)
Personally, I enjoyed this story, rating it as one of the better Stephen Moffat stories although the writers seem to have decided 'You know that thing we did before that was so popular? Let's do that AGAIN.'
The BBC says:
The Doctors embark on their greatest adventure in this 50th Anniversary Special: in 2013, something terrible is awakening in London's National Gallery; in 1562, a murderous plot is afoot in Elizabethan England; and somewhere in space an ancient battle reaches its devastating conclusion. All of reality is at stake as the Doctor's own dangerous past comes back to haunt him.
 An Adventure in Space and Time
This is a docu-drama about the creation of Doctor Who back in 1963.
The BBC says:
This special one-off drama travels back in time to 1963 to see how the beloved "Doctor Who" was first brought to the screen.
Actor William Hartnell felt trapped by a succession of hard-man roles. Wannabe producer Verity Lambert was frustrated by the TV industry's glass ceiling. Both of them were to find unlikely hope and unexpected challenges in the form of a Saturday tea-time drama, time travel and monsters! Allied with a team of brilliant people, they went on to create the longest running science fiction series ever, now celebrating its 50th anniversary.
Doctor Who series 1 – 4 in bluray
Receiving these seasons in bluray has inspired my partner to start a re-watch. Need I say more?
Realmshift and Magesign by Alan Baxter
These came in eBook format. The details will be updated once I receive more information from the author.
Sharky written by Dave Elliott, art by Alex Horley
Again we have hardcover, full-colour illustrations – these in brighter, superhero style colour – with good quality paper.
Flipping through, the pages fell open at a double page of two women in high heels with super-boobs, one wearing a plate-mail one-piece (think one-piece swimsuit) and the other in nipple armour. [headdesk]
So. High production values, but not aimed at me. I'll try to get someone more appropriate to review this comic book.
New South Books says:
You're 16 years old. All your life, you've been raised by your mom, with no idea of who your father was. Now you've hit puberty, and you're about to find out that the "no-good-S.O.B." who contributed to your genes is none other than ODIN! Not to mention your mother is a child of ZEUS. Now, whenever something sets off your hormones, you transform into the demi-god SHARKY!
Thrud the Barbarian by Carl Chritchlow
This has got to be a spoof, surely?
New South Books says:
Thrud's axe has always done his talking – whether he's stomping a dragon, or accidentally laying waste to an entire town during a battle with his arch-nemesis, The Black Currant. In this title, Thrud faces down the necromancer To-Me Ku-Pa, protects his beer supplies against fierce Frost Giants, and gets his pint spilled on a mission to the jungle.
Sounds like a spoof to me. Thrud is hardcover with seductively silky pages. It's in colour but the colour varies from muted semi-realistic shades to varying shades of one colour as in a sepia photograph.
Monster Massacre
New South Books says:
An exciting new graphic anthology series for fans of science fiction, fantasy, big monsters and all-out adventure!  From all around the world, the greatest comic talents are given full and free rein to explore the universe, to seek out new life and new civilizations… to boldly go where no one would dare let them go before.
The cover speaks louder than words of the style of artwork in this hardcover colour comic book. Flipping through, this comic book has a variety of art styles with contrasting colour techniques and a range of stories.