Instead of the ableist and insulting 'blind spot' colloquialism, the French use the term 'angle mort' or 'dead angle' to refer to the same phenomena. You can see this concept illustrated in this pictorial from Ornikar's website.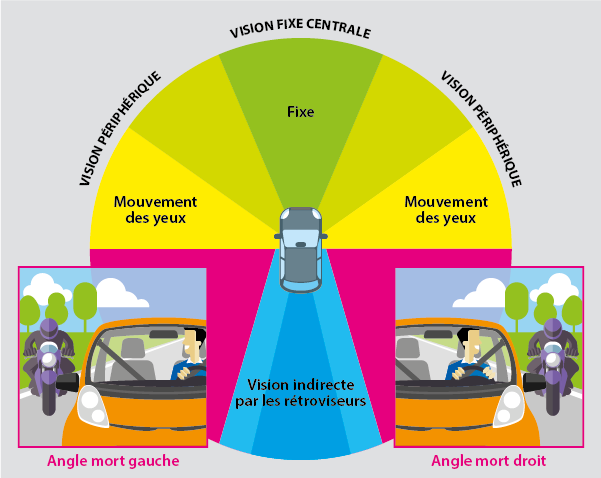 Dead angle is a battle term that refers to a location that cannot be defended against.
Ableist language is indefensible.
Recently I saw a tweet thread discussing this concept and ableist language. I forgot to note the details at the time but a kick-ass activist used Dark Matter Zine's contact form to bring my attention to this tweet. Although I could read this tweet thread yesterday, today the user locked her account. Therefore, I cannot give her appropriate credit nor relay the discussion thread. I guess there was backlash. The hazards of being disabled online. I'm in two minds about naming her here because locking her account indicates she needs to limit her contacts. I've decided discretion is the better part of valour (another colloquialism) so I'll leave her nameless unless I hear otherwise.
Of everyone I saw commenting, the response was unanimous. Let's use dead angle instead of blind spot.
I've been thinking about collating a list of alternatives for ableist terms. Today it's an individual post with an explanation. Later it will hopefully evolve into a list. Even I have to reach for alternatives to 'short-sighted' and 'wilful blindness' because these ableist metaphors are so ingrained. This post and any following list is as much for me as it is for anyone else, to help me combat my dead angles.