Podcast: Play in new window | Download
Subscribe: RSS
Charles Martinet, aka Mario and Luigi, talks to Nalini Haynes of Dark Matter.   Interview is available in MP4 (video) and MP3 (audio only) formats, both at the bottom of this page.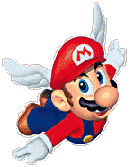 After interviewing the haunting Christopher, I wandered back to the group that was chatting near the entrance.  I squinted around the room, but no-one was available – oh, wait, there's an interview finishing up!  After Charles Martinet shook hands with his interviewers and walked away, I made a bee-line for him, asking if I could interview him next.  He was obliging and managed the next interview so it didn't duplicate the scene in either of the other two video interviews.  This involved him leaning against the rails and perching on the arm of a couch – it can't have been the most comfortable position – but this way the background was interesting, different and he didn't loom over the camera.  Did I mention that Charles makes even me look short?!
Charles is a gentleman by nature, putting those around him at ease while exuberantly exhorting people to seize the day and focus on the good in life.  And, honestly, who can resist Mario and Luigi?
I spent a good portion of this interview with my hand over my mouth, trying to muffle my laughter so it didn't detract from the sound tract.  This was, hands down, the funniest interview I've done to date, as well as the best laugh I've had in ages.  Thank you, Charles.
I'm entranced by this young-at-heart performer.  You must listen to this interview, from beginning to end, then rewind to hear the bits you missed while you were laughing.

Would you believe I forgot to take a photo of Charles? /facepalm