Auld Lang Syne
by Nalini Haynes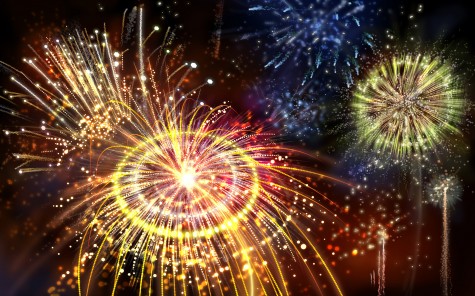 'Auld Lang Syne' literally means 'old long since'; for many people it's associated with celebrating the arrival of the New Year but also 'lest old acquaintance be forgot and ne-VAR BROUGHT TO MI-IIIINNDDD…'  nostalgia.  While Christmas is controversial – the very mention of which can cause emotions to rise and flame wars to begin – celebrating the New Year seems to be fairly universal although many people groups celebrate on different days.  I, myself, have tagged along for the Chinese New Year here in Melbourne.
My point?  It's that time of year again.  Already.  Traditionally I enjoy this time of year, either holding or attending a New Year's Eve bash.  Every year I reflect on the past and plan, aspiring for the future.  I make New Year's resolutions and try to keep them but mine are realistic: I resolve to do things like 'become more organised' and every year I improve a little bit.  The New Year is an ending and a beginning, much as Monday is the beginning of a new week, providing a fresh start when I've slipped up on meeting my goals and targets.  A fresh beginning in which I can dismiss my previous failings – like missing a workout the previous week – resolving to working harder, be more disciplined, striving to achieve my goals.
'How does this relate to Dark Matter?' you ask.
'Well,' I reply, 'as December 2012 draws to a close I can look back and see how very far we've come.'
Timeline of significant events
Mid-2010, Dark Matter wasn't even a twinkle in my eye.
October 2010 issue 1 was published.
December 2010 – first email interviews: Joe Abercrombie and Jonathan Cowie
January 2011 issue 2: the first interviews were published.
March 2011 – first phone interview, with Meg Mundell
April 2011 issue 3 four email interviews and one phone interview as well as lots of SFF news that was out-of-date by publication, so from that time those news items were posted to Facebook instead.
July 2011 issue 4: first recorded interviews.  These were transcribed (written in text) but recorded interviews with reasonable sound have since been put on the website as MP3s.  From this issue only Kevin J. Anderson's MP3 is online (MP3 at the bottom of this page underneath the text version).
Reviewers were coming and going by this stage, depending on their busy-ness and the appeal of writing reviews.
August 2011 – Purchased domain name and business cards
October 2011 – first media pass as Dark Matter: Armageddon Expo
April 29 2012 – Dark Matter website launched
August 1 2012 – first video interview via skype
August 4 2012 – first video record of an event: Witchhunts launch  (using a DSLR that shuts down every 10 minutes when recording video due to overheating)
September 2012 – purchase of the camcorder
September 18 2012 – Dark Matter website 2.0 launched
October 2012 – first Media Call, at Armageddon.  Video interviews of Bruce Boxleitner, Christopher Heyerdahl, Charles Martinet, Cindy Morgan being interview-bombed by Bruce Boxleitner, Rachel Grant and Terry Molloy.   My head is STILL spinning – I can't quite believe I was given this opportunity.  Thanks to Armageddon and especially Locky.
December 4 2012 – 'in the Limelight' launched, Dark Matter's new video interview format complete with credits and overlays.
December 10 2012 – received notification that RMIT intends to offer me a place in the associate degree for Professional Writing and Editing.
December 11 2012 after many phone calls, emails and visits to their offices, VTAC confirmed that I'm registered and therefore eligible to be offered a place in RMIT's Professional Writing degree.  My deepest thanks to all Dark Matter's supporters as you've all helped make this possible. Now I hope to raise the bar further in presenting professionally.
 December 12 2012 (today) uploading Kathryn Leigh Scott (Maggie Collins in Dark Shadows 1966-1970 and cameos in Tim Burton's Dark Shadows) as well as setting a date for interviewing Claudia Christian.
Networking
While the above list feels starkly functional, it's a reflection of relationships built.  Supporters – whether they're fans, followers or contributors in some form – have helped develop Dark Matter to the point where securing interesting interviewees is growing easier and people are offering to write articles as guests.  People send interesting links as messages to Dark Matter's facebook page, so I ask them to post on the page directly to be shared.
Reviewers
Dark Matter's small group of dedicated reviewers are thoughtful, speaking to readers with similar interests.  Ongoing reviewers are Jade Hounsell, Rebecca Muir, Evie Kendal (with ONE 'l', my mistake), and Elizabeth (Liz) Vinton.  We each have varied tastes and together read and review a greater quantity and diversity of material than I possibly could alone.
Contributors
Other contributors this year have included guest bloggers such as Jack Dann, Rowena Cory Daniells, Andrea Cremer, David Hair, Joanne Anderton, Marianne de Pierres and Nathan Farrugia.
Interviews in 2012
I've had the privilege of interviewing LOTS of people this year.  One of my regrets from this year is that I haven't managed to interview half the authors who've indicated an interest in being interviewed.  This is amazing, encouraging, inspiring and overwhelming.  Next year I think I'll write a list and try to work through that list more consciously and deliberately.
The list of interviews published in 2012 in chronological order:
Rob Lloyd – actor and comedian (interview first published in Jan 2012, issue 7)
Tansy Rayner Roberts – author (interview first published in Jan 2012 issue 7)
 John Richards – screen writer, Outland (first published in January 2012 issue 7)
Trent Jamieson – author
Amanda Palmer and the Grand Theft Orchestra – musicians
Brandon Sanderson – author
Christopher Kirby – actor, Iron Sky
Edward James Olmos – actor, human rights campaigner
Dr Pants – musician
Eoin Colfer – author
Helen Lowe – author
Jane Austen Argument – musicians
Joanne Anderton – author
Margo Lanagan – author
Alan Baxter – author
Nalini Singh – author
Yunyu – musician, storyteller.  Plus 2011 interview first published in January 2012 issue 7 of Dark Matter
Charlaine Harris – author
Rhiannon Hart – author, Plus 2011 interview first published in Jan 2012 issue 7
Kim Westwood – author
Trudi Canavan – author
Sam Bowring – author
Emmett Skilton and Tim Balme – actors, The Almighty Johnsons
Kate Forsyth – author
Cindy Morgan – actor, Caddyshack, Tron
Christopher Heyerdahl – actor, Stargate Atlantis, Sanctuary, Hell on Wheels
Charles Martinet – voice actor (Mario & Luigi, Parthanaax in Skyrim etc)
Rachel Grant – actor, Bond girl
Terry Molloy – actor, Davros from Doctor Who
Bruce Boxleitner – actor, Sheridan from Babylon 5, Tron & Tron Legacy
Jay Kristoff – author
Melina Marchetta – author
Joe Abercrombie – author
Kristi Reed – voice director
Rachel Caine (Roxanne Longstreet Conrad) – author
Morgan Grant Buchanan – author
Kathryn Leigh Scott – actor, author, publisher
Claudia Christian – actor, director, author.  Talks about working on Babylon 5 and even why she left.  This interview should be available online soon.
Just compiling that list makes me feel exhausted!
A HUGE thank you to all the people who consented to be interviewed, their publicists for organising interviews and review copies of books.
 My learning points from this year:
Don't feed the trolls.
Missed opportunities: I've started preparing for an interview by reading a book then I've put that book down in favour of another because a publicist has contact me, offering me an interview.  While that is  AWESOME, I haven't always been sufficiently disciplined to get back to the first book.
I need to spend some serious time properly learning the potential of some of the software packages I'm using – my styles have been developing over time, but I'm not there yet!
I need to be more creative, take more risks.
I need to work on my on-camera presentation, leading to the next point:
I HATE being on camera, I feel so self-conscious.  I've been planning a VLOG of picture books – the only way to review them imo – but I've felt too self-conscious.  Coming soon, watch this space.  (UPDATE: the Vlog is online here).
there are NEVER enough hours in the day.  Make lists.  Prioritise.
Thank you for joining me in my journey that is an exploration of science fiction, fantasy, art and writing/publishing.  I've appreciated your company along the way, regardless of whether you've made comments or contributions.  You've BEEN HERE.  And if you keep returning, it's a show of support, so THANK YOU.
I hope the coming year will be interesting and exciting for us all.
Isn't there a Chinese curse that says 'May you live in interesting times'?  Maybe less of the 'interesting' then…
You know what I mean.
HAPPY NEW YEAR.