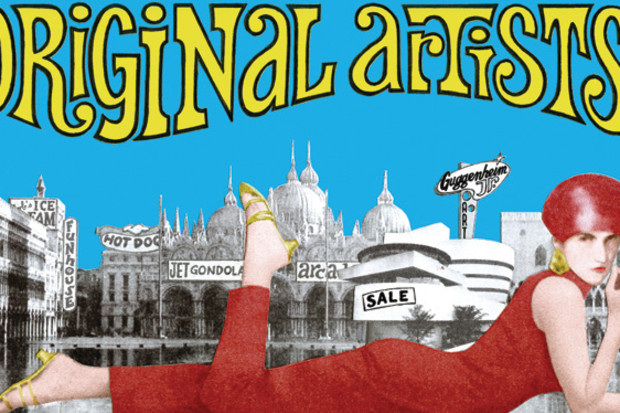 Media release
Hi all,
Some of you may know that I've started up a small publishing imprint, Fabilaux, dedicated to publishing niche works that might otherwise not see print for a variety of reasons. That will also include my own work, of which so much is out of print or never been printed.
Some of you may know that a short while ago I published the first book, Art Is A Lie by Carol Wood and Susan Butcher, a collection of their Dead Or Alive strips that have been running in an American art mag called Artillery for the past nine years. In essence, they are 1-2 page parody biographies of famous artists, done in a myriad of styles, a very large number of which are accurate knock-offs of famous cartoonists. Imagine Duchamp as done by Chester Gould; Magritte as an EC horror comic; Lichtenstein by Russ Heath; Tom of Finland as done by George Herriman; Pollock by Rube Goldberg. No? Then see for yourself.
I've created a crowd-fund campaign on IndieGoGo not to fund the printing, as that's done, but as a method of distribution, using the platform's tools as a merchant terminal and aggregating mailing addresses and so on, especially to those fans of Carol and Sue's overseas. There are a range of perks, the main one being the book of course, but also some hand made novelties, figurines, original art and the wonder original one off Statue of Libertinism.
The timing of the campaign has been devised to link with the publication of the summer edition of Artillery, where an ad has been placed, along with a web tile on their site linking to the campaign. A Fabilaux website and shop is being built, linked to my site so that sales of this and other books can carry on into the future.
So, I hope you'll click on the link below and contribute by buying a book, or perhaps more. The money paid on the novelties, figurines, original art and Statue will all go to Carol and Sue so they can continue to make the wonderful comics and art they do. Consider yourselves art patrons if you buy something special.
And I'd really love it if you share the campaign via email, facey, twitter or whatever social means you like to use.
The talk is over, time to walk. Like any 18 month old. I'm of course, a big ugly two year old, hence I walk and talk all sorts of rubbish. But good rubbish.
http://www.indiegogo.com/projects/art-is-a-lie/a1c1/485964

love in a speech balloon,
Bruce Mutard
http://www.brucemutard.com