The Armageddon Media Call began auspiciously – Locky gathered up all the media peeps he could find in the foyer of the hotel where he'd lodged his unsuspecting – well, would you believe expectant? – guests, and took us upstairs to this gorgeous night club with lots of individual sets for us to video our interviews.
Cindy Morgan
The vivacious Cindy Morgan (Caddyshack, Tron) joined us before we filed into the elevator.  I think most of us were somewhat bemused that a guest was early to the fray, so comfortable and outgoing at that hour of the morning.  Is this woman immune to jetlag?!
When we filed out of the elevator like timid sheep we found the missing media people had found the media call venue without Locky's leadership, to the bemusement of some.  They were sitting in a pod-ish line up almost like a panel of judges.  I half expected them to hold up large cards with numbers judging – judging who?  Locky for his leadership?  Locky's sheep for our docility?  The guests on their arrival and presentation?  We will never know.
Cindy wandered over to a table and chairs near the unattended but decorative bar, chatting to Locky.  As Cindy was the first guest available for an interview and she seemed so personable, plus the others were sitting down or lagging behind, I lept in to the (comparatively safe) deep end and asked if I could interview her.  Both Cindy and Locky were cheerful in their acquiescence, so I set up and we were good to go.  Until I realised that my brand-new camcorder, bought with my refund from Adobe's not-so-Windows-7-compatible product, had decided to hide the menu that I used to start the recording.  -_-  [dies inside]  Cindy was sympathetic and helpful – we took it over to the LIGHT (did I mention how dark it was in there at that stage?) and figured out how to get the right menu back.  We were good to go.  I didn't have a clue what to expect from Cindy even after the research I'd done, but she was a delight to interview.  We finished with Cindy giving me a few tips on camera angle so as to take the most advantageous photos (see the above photo).
Christopher Heyerdahl
Christopher Heyerdahl's interview is here.
I wandered back in towards the middle of the room.  There was a small group of people chatting but not being interviewed.  I recognised ONE of the three.  I asked Christopher Heyerdahl if he'd mind being interviewed.  He was happy to oblige.  As we walked over to settle in for an interview, he said, 'I'm Chris Heyerdahl.'
I looked at him.  I said, 'I know.'  I felt like kicking myself immediately because I think it sounded like: I KNOW -_-  but the alternative?  'I have a crush on your character John Druitt, I luuuuuuurve his voice and striking features and tortured soul.'  Not. Going. To. Happen.  If I'd said that, I would have gone bright red, stuttered and stammered and completely blown the interview.  How gorgeous of Chris to be so unassuming that he could possibly think I didn't know who he was!  There were a few people there I wasn't sure of – like Davros – but Chris?  No confusion. At. All.
Note that close to the beginning of the interview I mention something Doctor Gillian Polack said on Twitter last night; Chris threw his head back and ROARED with laughter.  Here's the tweet I quoted.
@darkmatterzine I just realised – Christopher Heyerdahl is the most solid link between the Kon Tiki Expedition and Bigfoot.

— Gillian Polack (@GillianPolack) October 11, 2012
The Kon Tiki Expedition is famous and notorious.  Thor Heyerdahl is a relative of Chris'.
If you see Chris wandering around Armageddon this weekend, make sure you let him know that you recognise him and appreciate his significant contribution to our genre.
Charles Martinet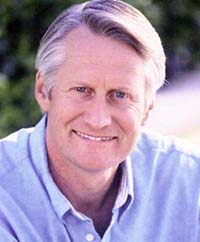 Charles Martinet's interview is here
After interviewing the haunting Christopher, I wandered back to the group that was chatting near the entrance.  I squinted around the room, but no-one was available – oh, wait, there's an interview finishing up!  After Charles Martinet shook hands with his interviewers and walked away, I made a bee-line for him, asking if I could interview him next.  He was obliging and managed the next interview so it didn't duplicate the scene in either of the other two video interviews.  This involved him leaning against the rails and perching on the arm of a couch – it can't have been the most comfortable position – but this way the background was interesting, different and he didn't loom over the camera.  Did I mention that Charles makes even me look short?!
Charles is a gentleman by nature, putting those around him at ease while exuberantly exhorting people to seize the day and focus on the good in life.  And, honestly, who can resist Mario and Luigi?
I spent a good portion of this interview with my hand over my mouth, trying to muffle my laughter so it didn't detract from the sound tract.  This was, hands down, the funniest interview I've done to date, as well as the best laugh I've had in ages.  Thank you, Charles.  I'm entranced by this young-at-heart performer.
Rachel Grant
Rachel Grant's interview is here
Rachel Grant was loitering near the OTHER bar, the one that supplied water from a hose (I kid you not! Lockie was the dealer distributing this substance).  I kept looking at this older guy, thinking I should know him from somewhere… every time I came to the 'in-betweeners' group, he was there…  I didn't think he looked like anyone on my list…  AARGH!
Rachel I recognised, and asked for an interview.  She seemed mildly surprised that I sought her out, but she agreed.
Rachel's website stresses her adventuring, globe-trotting nature so we talked about some of those experiences as well as her screen roles.
Rachel Grant has been a body double for Angelina Jolie in Tomb Raider, later progressing to Bond girl status in Die Another Day as Peaceful Fountains of Desire.  In between, Rachel starred as the bizarre Nina, the host of Sci-Fright, a genre-movie program.
Terry Molloy
Terry Molloy's interview is here
Terry Molloy was the voice of Davros in Doctor Who on TV, radio and in a number of Big Finish audio productions as well as voicing many other characters.  Terry talked about his wide-ranging roles, especially the appeal of radio and audio shows, which allow him much more diversity.  He mentioned the role he would have loved to play that he's never actually played; sadly he says he's too old now, but I wonder if he could contribute to an audio production?
Wikipedia says the following about Terry:
On television, Molloy is perhaps best known for his role in the long-running science fiction series Doctor Who as the mad scientist Davros, the creator of the Daleks, in the stories Resurrection of the Daleks,Revelation of the Daleks and Remembrance of the Daleks. Molloy also appeared in the Doctor Who story Attack of the Cybermen as an undercover policeman named Russell. In recent years, Molloy has reprised the role of Davros in the Big Finish Productions audio dramasDavros, The Juggernauts, Terror Firma, Masters of War, The Davros Mission and the four-part miniseries I, Davros. He also played Davros in a 2005 stage production, The Trial of Davros.
Molloy regularly attends Doctor Who conventions and events, where he meets fans and speaks about his time on the programme.
Wikipedia also has a photo of Terry with Davros' prosthetic mask.
I couldn't help but shiver when Terry slipped into Davros' voice.
Bruce Boxleitner
Bruce Boxleitner's interview is here.
When Bruce arrived, he interview-bombed Cindy Morgan's interview.  Never heard of interview bombing?  You have now, and Bruce does it well.  The pair together are like an old married couple on a sit-com, they're so funny.
We talked about Bruce's career, starting with the Scarecrow & Mrs King (apparently Kate Jackson and Bruce were chatting about a sequel series just the other day).  Then we moved on to Babylon 5; I adore B5 but I changed the subject after it got a bit heavy.  Michael O'Hare's death was so recent and he's the sixth man from B5 to pass away.  It's hit Bruce hard.   Then we moved on to Lantern City which sounds exciting.  I've been watching the concept designs go online, they're beautiful.  We talked about crowd-sourcing costumes and more.
I cannot believe I didn't get a photo of Bruce, but there were mitigating circumstances – my camcorder died about 2/3 of the way into the interview, so I used my DSLR.  First I searched my bag for the extra battery.  Bruce was so cool about it, saying we could finish up another day, but I didn't want to risk not being able to get hold of him later.  My DSLR is great for still shots but not so reliable for video as it tends to overheat and shut down, but we finished.  This made the interview extra-extra long.  It was the end of a long morning – well, actually, by now it was the end of lunch time, really – and I'm not sure if Bruce had finished interviews or if he had one more to go.  Anyway, in lieu of an original photo, above is one from the Lantern City website.
Armageddon Media Call Wrap-up
This was the most epic day for me working on Dark Matter yet.  Never before have I interviewed so many people in such a short space of time.  Charles Martinet was the funniest interview ever with Cindy Morgan bombed by Bruce Boxleitner coming second.  Chris Heyerdahl was really interesting – I'd love to do a more in-depth piece on him sometime but I had to share this morning :*(  Rachel Grant's Sci-Fright must have been fun and she's got some good memories of working on Tomb Raider and as a Bond girl.  Terry Molloy was interesting, with a wealth of experience behind him; I'm going to have to get hold of his Big Finish Doctor Who productions, just so he can give me the shivers as Davros again.  Bruce was generous with his time and yet I walked away wanting MOAR!!!  He's another person I'd love to sit down with and talk about his experiences and his career, Babylon 5 (probably my all-time favourite TV show) and Lantern City, which looks beautiful and exciting.