A review by Nalini Haynes
With both parents dead, the extended family estranged and creditors at their door, Kitty Talbot decides to travel to London for the Season. And to marry a rich man. Hence she is the Lady Fortune Hunter of the title.
Kitty Talbot is the eldest of five girls. She was engaged to marry a neighbor, but he called off the wedding. As the responsible eldest, Kitty is determined to look after the others.
Her only contact in London is a former actress and courtesan who retired ten years ago who takes on the role of aunt, introducing Kitty to her circle.
After doing the math, Kitty realizes she needs someone wealthier than Aunt's suggestions, so aims for a younger son of an aristocratic family. However, her ignorance of the tonne poses a formidably barrier…
Social expectations
In Regency England, young women of certain classes could only find work as governesses, ladies' companions and similar else risk ruining their reputations and their families'. With the amount the family owes, Kitty cannot possibly pay their creditors and look after her sisters. In some ways she appears to have entitlement issues: she wishes to keep the family home as well as pay off their debts. However, she is a sympathetic character.
I found it interesting, intriguing even, that her "aunt", the former actress and courtesan, never once suggests alternative careers. Nor does she sit Kitty down for a talk about "the birds and the bees", not even when Kitty sets her sights on less attractive specimens of manhood. Sophie Irwin strives to be emulate Jane Austen or Georgette Heyer over Marion Chesney. Like the former, Irwin observes the biases and prejudices of society alongside character quirks, gently poking fun.
Codes
I have long said that codes exist that require a key. Many people have told me "other people just know" but it's impossible to "just know" without being taught, even if that teaching is implicit via modelling. Kitty runs full tilt into social codes due to her ignorance.
Aunt's foray into Cheapside for a wardrobe saved Kitty a fortune but differences in costume are red flags for aristocrats. For example, her shoe buttons are visibly different, cheaper.
Kitty does not know how to curtsey to people of varying stations in society, at first blundering by sinking too low for someone of middling status. She needs a crash course in etiquette. And other things.
The verdict
I fear I may have read too many romance novels because I knew who the love interest would be well before he appears. Regardless of predicting the plot, A Lady's Guide to Fortune Hunting is an enjoyable read. For me, romance novels are like chocolate: they are an excellent comfort read in times of great stress and distress. And this novel has a good balance of wry humor and comedic takes. Like the old TV series Keeping Up Appearances, A Lady's Guide To Fortune Hunting invites us to laugh at others' pretentiousness and our own quirks.
If you enjoy this novel you'll like The Unworthy Duke by Charlotte Anne.
Book design
This novel has different covers for different regions and publishers. Personally, I prefer HarperCollins Australia's cover (teal and gold) over the Penguin Random House cover (blue background), but the cover doesn't change the story. However I suspect someone made an error on the HarperCollins page, which lists this novel as "Modern & contemporary fiction (post c 1945)"!!! The eBook has a list price of $9.99 Au. Books in Australia rarely cost that little, especially when just released. I checked the price in stores and no one, not even Big W or Amazon, has it listed below $16 Au. Dymocks has the paperback listed as $24.99. An interesting digression in my opinion, and one that may well provoke an emotional reaction from overseas booklovers!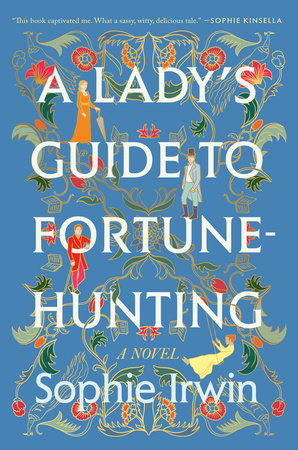 Book details
Rating: 4 out of 5 stars
ISBN: 9780008519544, 008519544 HarperCollins Australia
ISBN: 9780593491348 Penguin Random House
Released: 2022
Format: paperback, 352 pages (varies)
Category: romantic comedy, romance, historical fiction